Winter Nationals Week
Yakoff Makes Full Recovery to Win Two Gold Balls in Girls 12s
by Rhiannon Potkey, 8 January 2018
Stephanie Yakoff couldn't even hold a pen a few months ago, let alone grasp a racket.
The 7th grader was diagnosed with golfer's elbow last June, and the inflammation on the inside of her right arm was extremely painful.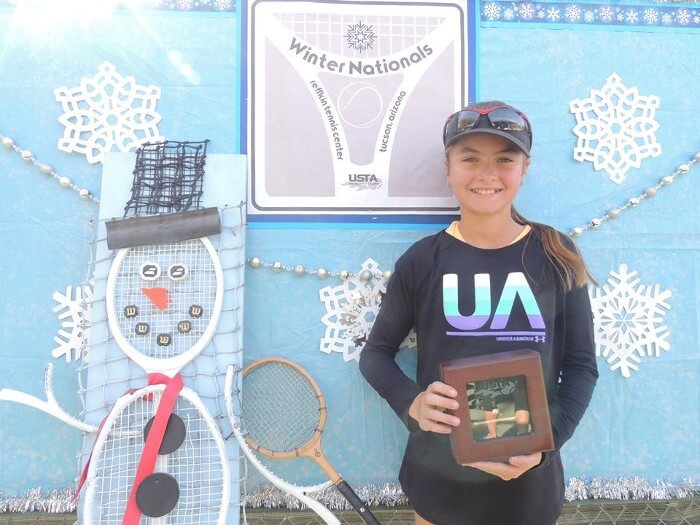 Girls 12s Singles Champion Stephanie Yakoff
The doctors told Yakoff's parents it could take months for her to recover. Yakoff wasn't even allowed to run.
She struggled to stay positive as the weeks passed by without tennis.
Once she was finally able to get back on the court, Yakoff rejoiced. After shaking off some early rust, she gradually began to return to form.
She achieved a mental breakthrough last week by capturing the singles and doubles titles at the USTA Girls 12 Winter National Championships in Tucson, Arizona.
The top-seeded Yakoff didn't lose a single set in the tournament, defeating No. 3 Brooklyn Olson 6-3, 6-0 in the final to capture her first gold ball in singles.
"I thought I played amazing. I felt pretty good in practice before at both of the clubs where I train and I thought I had good preparation," Yakoff said. "I knew had to try and at least win the tournament since I was the No. 1 seed. It felt pretty good."