College Recruiting Feature
UC Davis Mines Southern California For Talent
by Michael Smith, 14 March 2018
DAVIS, Calif. - In August of 2012, newly minted UC Davis head coach Eric Steidlmayer and his assistant, Mike Meyer, sat down to strategize about how to turn around a program that was still in its infancy at the Division I level.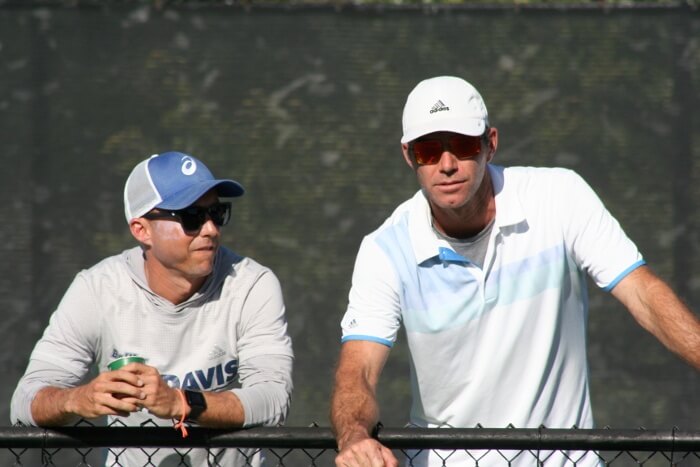 UC Davis Coaches Mike Meyer and Eric Steidlmayer
© UC Davis Athletics
Having recently relocated from UC San Diego where they had combined to turn the Division II Tritons into a national power, Steidlmayer and Meyer were now at the helm of a program that had struggled to find its footing since becoming a full-fledged Division I member just four years earlier.
The Aggies' resume wasn't without success. UC Davis was the 1992 NCAA Division II national champion, the 1990 national runner-up, and had made 10 trips to the NCAA Tournament in a 14-year span, including five-in-a-row from 1989-93. The program had produced three doubles national champions and a singles champion in that stretch, while 18 student-athletes also garnered All-American status in a 10-year span from 1987-97.
However, after making the transition, the growing pains began to set in. Steidlmayer and Meyer arrived in Northern California and inherited a program that had posted a 32-71 record in its first five years at the Division I level, winning just five duals against Big West Conference rivals in that span, and ranked between No. 150 and 200 nationally.
While understanding some of the financial limitations of the program (no "out-of-state" or international scholarships), they still felt there was an opportunity to make UC Davis a special place to play.
Located in one of the only true "college towns" on the West Coast, the university would offer a world-renowned education at the sixth-best public university in the nation that features a number of disciplines ranked among the best in the world, a unique community that boasted a downtown atmosphere just off-campus with all the comforts of home, and an amazing tennis facility that featured 18 courts and two coaches with high aspirations and a commitment to building a culture characterized by strong work ethic day in day out, balanced by a supportive team atmosphere and a focus on having fun and "enjoying the process."
Steidlmayer knew that if he could just get the kids to Davis to see the campus, to explore the unique college town, and to meet with the athletes and administration, that some of the top players might begin to consider Davis as an option.
"Changing perception is tough, especially when nearly all top juniors growing up only had Pac-12 schools on their radar screen," Steidlmayer said.