College Feature
Tennis Keeps Smiths Close Together at USC
by Rhiannon Potkey, 28 March 2018
From an outsider's perspective, everything about the match was routine. There was nothing to suggest it had any significance beyond a win or a loss on USC's record.
But for the Smith family, it was a moment nobody will soon forget.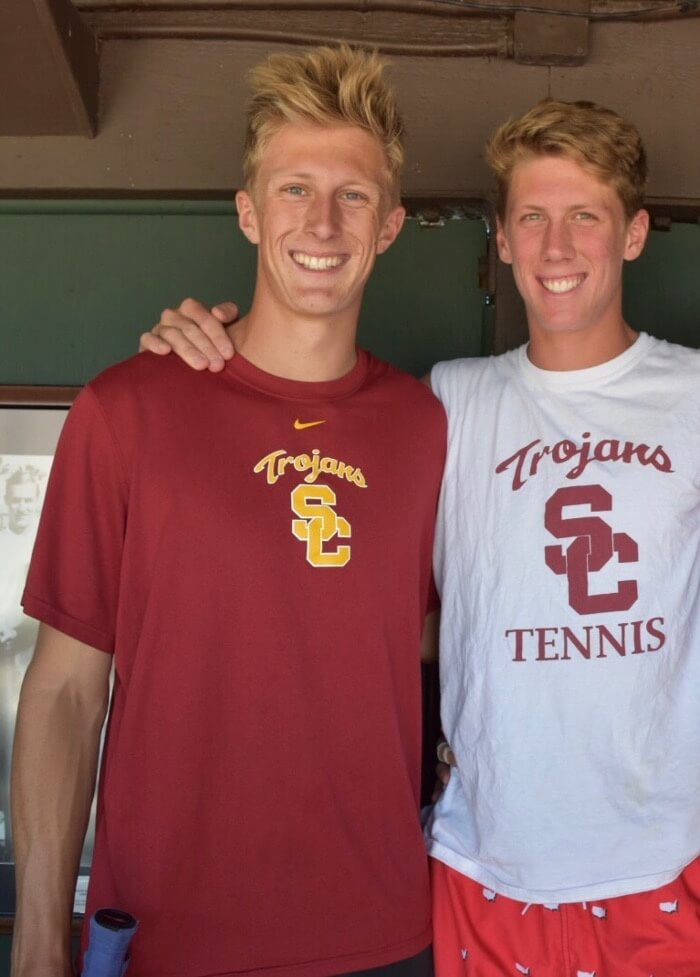 Brothers Tanner (Left) and Riley Smith Chose To Stay Close To Home and Play For Their Dad at USC
As the Trojans were playing Indiana in the ITA Kick-Off Weekend earlier this season, USC coach Peter Smith looked up into the stands and caught the eye of his wife, Tammie. They both had an "Are you kidding me?" expression at what was taking place.
For the first time, their sons - Tanner and Riley - were playing next to each other in doubles, both representing USC with their father as the head coach.
"It was incredibly special," Peter Smith said. "I never dreamed of this. It wasn't my plan for them to come play for me. I only wanted what was best for them. But having them on this team together has been unbelievable."
It's a running joke that Peter began recruiting his children to USC from the time they were born. Although it's not exactly true, his three sons became enamored with the school and the program from an early age.
There was very little question they would become Trojans. Tanner, a redshirt junior, was the first to commit to his father. Riley, a sophomore, was close behind. Colter, a junior in high school, is likely to join his brothers in a USC uniform.
"It was not much of a recruiting process for me," Tanner said. "Both of my parents encouraged me to go on recruiting trips and talk to other coaches. Ideally that is great, but my heart was never in it. I always knew I wanted to play for my dad and play for USC because the school is amazing and I love being here."