Special Feature
College Tennis Programs Make a Positive IMPACT With Sick Kids
by Rhiannon Potkey, 19 April 2018
Thomas Argersinger needed a reason to smile and feel special. The 6-year-old with cystic fibrosis was in the midst of a lengthy hospital stay as doctors fought to control a growing bacterial infection.
His parents were scared about the potential outcome, and worried about keeping Thomas in good spirits.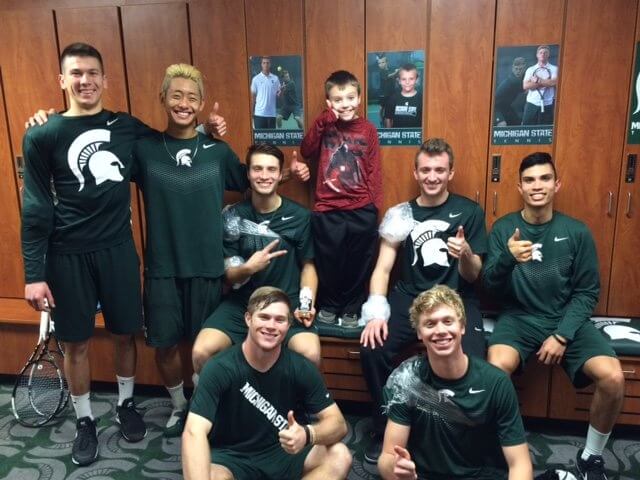 A child life specialist at the hospital noticed Thomas' interest in sports and approached his mother about participating in Team IMPACT. The national non-profit organization matches children with life-threatening illnesses to collegiate athletic teams for support.
After doing more research, Carmen Argersinger couldn't wait to put Thomas in the pool to be "drafted" by a team. She never imagined how much the decision would enrich her son's life.
Thomas was matched with the Michigan State men's tennis team in 2015. The day after his family was notified, the MSU players began sending emails addressed to Thomas expressing their excitement about him joining the program.
Thomas went to the MSU facility for his signing day ceremony, and found three TV stations awaiting his arrival to broadcast the event on the nightly news.
The Spartans put his name on the scoreboard and gave Thomas his own locker right alongside the other players.
Three years later, the connection remains strong. Thomas, now a 10-year-old third grader, still tries to attend every MSU home match and hang out with the players as much as possible.
"It is pretty amazing to a young kid like my son to have college athletes invest so much time in him. They are like heroes to him," Carmen Argersinger said. "There are so many negative stories you see now about college athletes, but to see the way these men have interacted with my son is just heartwarming."
Team IMPACT has matched 1,400 kids with athletic teams at more than 500 colleges in 47 states since the nonprofit formed in 2011.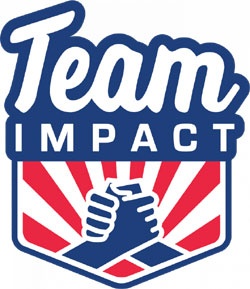 College tennis programs in nearly every division have taken part, with 32 teams having participated all-time. Currently, there are 24 kids matched with college tennis programs.
"This experience really gives players some perspective," said Utah women's coach Mat Iandolo, whose team drafted a local 14-year-old girl last year. "I think players sometimes underestimate the gifts they have or the significance of how they are perceived by younger kids. It's easy to take it for granted. But somebody younger would give anything to be like them. It is a very powerful message."