College Feature
Zaima's Recruiting Influence Lives on at UCLA
by Rhiannon Potkey, 15 March 2018
Bill Zaima recruited Stella Sampras Webster twice.
The first time was to play for his team at UCLA. The second time was to replace him as the coach of the Bruins.
Sampras Webster said yes in both instances, won over by Zaima's sincerity and compassion.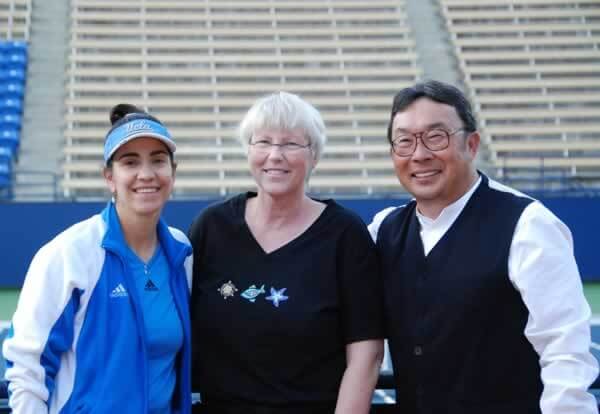 The Only Three Women's Tennis Coaches in UCLA History: Stella Sampras Webster, Gayle Godwin and Bill Zaima
© UCLA Athletics
"Bill didn't have any children, so every player on his team was pretty much like his daughter and that is how he treated us," Sampras Webster said. "He really took care of everything for his players and went above and beyond what probably a normal coach would do because it was a part of his life and he just cared so much about us and UCLA."
UCLA is holding an alumni celebration this weekend that includes a tribute to Zaima. The first women's tennis coach at UCLA, Zaima died from an illness in 2016. He was 69.
The Bruins waited to honor Zaima until his wife, Carole, was ready to attend the event. Nearly 80 former players from all decades are expected to return to UCLA for the three-day reunion, which will feature tours of the campus and facilities, a team mixer and a banquet inside the UCLA Athletics Hall of Fame.
In addition to honoring Zaima, UCLA will recognize the 10th anniversary of the 2008 NCAA championship team - the first NCAA title in UCLA women's tennis history. The Bruins will play Oregon in a Pac-12 Conference dual match on Sunday to conclude the festivities.
"We wanted to make it a real fun weekend and have players bring their families and see the campus, because a lot of them haven't been back for 15-20 years," Sampras Webster said. "We are hoping it's a time for everyone to come together and celebrate UCLA, the program and Bill Zaima."