Commitment Profile
Legendary Mentorship Guides UCLA-Bound Taylor Johnson
by Rhiannon Potkey, 25 April 2018
Some legendary mentors are discovered at networking events or connected through major organizations. Others are found on the leg extension machine at the local YMCA.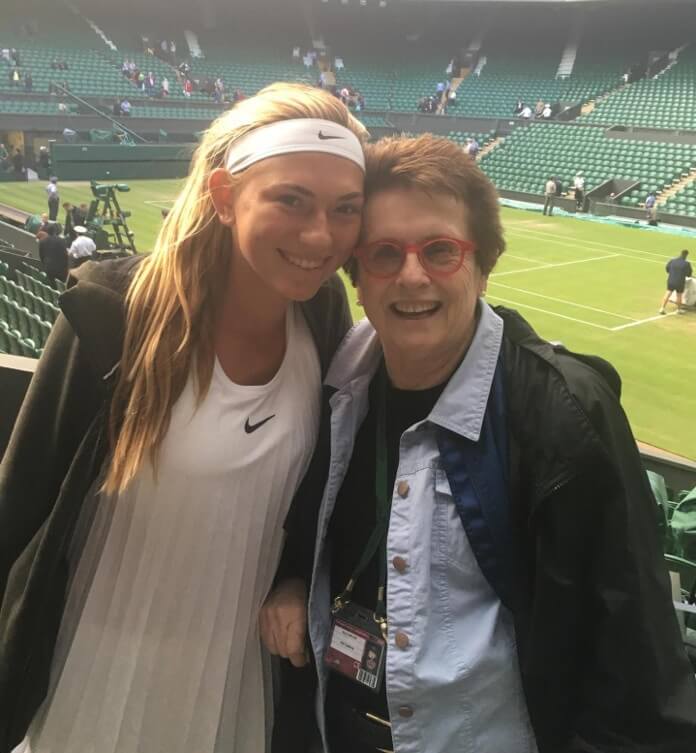 Taylor Johnson And Mentor Billie Jean King
Taylor Johnson's relationship with Billie Jean King began with a chance encounter during quad strengthening.
Johnson grew up in Prescott, Arizona, and lived in the same neighborhood as King's mother. King would often visit, and Trynna and Randy Johnson marveled that such an influential figure in tennis was so close by just as their 10-year-old daughter started becoming more serious about the sport.
"I was sitting on our patio one day saying, 'Wouldn't it be nice to meet Billie Jean King and talk with her and have her be able to mentor Taylor?'" Trynna said. "Randy looked at me like, 'How are we going to do that?'"
The very next day, Randy was on the leg extension machine at the YMCA and looked over to see King on the machine right beside him.
They struck up a conversation, and he told King about Taylor. He left the gym without giving King his contact information, only to run back inside and provide a card with his phone number. King crinkled up the paper and placed it in her shoe.
"To this day, she tells Taylor that is a good sign," Trynna said. "She says, 'If I do that, it means I am going to contact you.'"
A month later, King showed up at the local high school tennis courts to watch Taylor train.
"Our relationship just took off from there. She has become like family to me," Taylor said. "I am really lucky to have her in my life. Her impact on the sport and on the world is really inspiring. She is truly amazing."
King has helped Taylor navigate major decisions in tennis and in life. Before Taylor recently committed to UCLA, the blue chip junior spent a weekend at King's home in New York to get advice and discuss her future.
Taylor realized she wanted to play college tennis before pursuing a pro career, and wanted to stay in California, where she relocated to train seven years ago.
"I went and visited UCLA and just kind of fell in love with the program and the campus," said Taylor, who will be enrolling early to join the Bruins in January of 2019. "I just feel like everything was right for me there and just fit me as a person and as a tennis player perfectly."