Special from
Zoo Tennis
INDIAN WELLS, Calif. - The ITF Grade B1 Easter Bowl is played in the shadow of the Indian Wells Tennis Garden's Stadium 1, home to the BNP Paribas Open, which concluded just days before the junior players arrived. For champions Katie Volynets and Jenson Brooksby, the tournament provided a chance to step out into the bright desert sunlight, with both Northern Californians coming from a set down to defeat the top seeds in Easter Sunday finals, with Volynets defeating Alexa Noel 4-6, 6-3, 6-1 and Brooksby downing Tristan Boyer 4-7, 6-4, 6-3.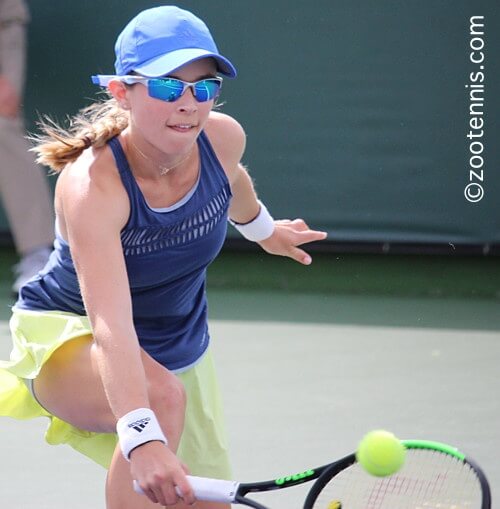 Girls Easter Bowl ITF Champion Katie Volynets
©
Zoo Tennis
Volynets was no stranger to success in the desert, having reached the 12s final back in 2014, the first year the tournament was played at the Indian Wells facility. Seeded No. 15 this year, the 16-year-old from Walnut Creek, California had several hurdles to clear for another chance at an Easter Bowl title, defeating No. 3 seed Caty McNally 6-2, 6-4 in the third round, and after a walkover from an injured Chloe Beck in the quarterfinals, Volynets defeated 2017 Easter Bowl 16s champion Emma Navarro 6-2 5-7, 6-2 to advance to the final.
Her opponent there, No. 1 seed Noel, had struggled in the windy conditions of her first-round match, but the 15-year-old from New Jersey had improved with every match. By the time Saturday's semifinals rolled around, Noel was in peak form, with her game firing on all cylinders in a 6-3, 6-0 win over No. 8 seed Gabby Price.
The heat wave that hit the Coachella Valley midweek continued into Sunday, with the temperatures in the low 90s and very little breeze for the championship matches.
Noel earned the first break in the opening set of the final, but Volynets was able to break right back for 3-3. At 4-4, Noel earned another break when Volynets' forehand began to go awry, but closing out the first set was not easy for the top seed. Down 15-40, Noel managed three straight points, but couldn't close on her first set point, with Volynets' overhead, solid throughout the match, saving it. But two missed returns gave Noel the first set, an advantage she didn't feel was entirely deserved.