Claycourt Championship Week
Ngounoue Caps Birthday Week With Girls 14s Title
by Harvey Fialkov, 25 July 2018
PLANTATION, Fla. - Clervie Ngounoue had to put off her 12th birthday for four days. But it was certainly worth the wait as the lanky prodigy with her trademark swinging volley overpowered all seven opponents placed before her, including the top-seeded Vivian Ovrootsky 6-4, 4-6, 6-2 in the final to win the USTA Girls 14 National Clay Court Championships at Veltri Tennis Center.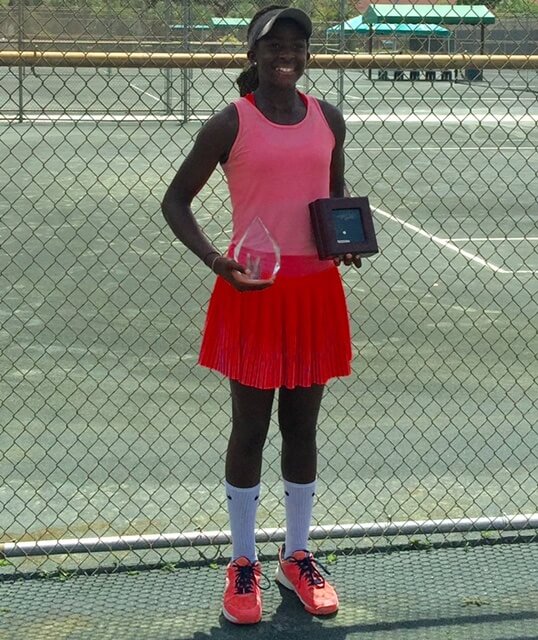 Girls 14s Champion Clervie Ngounoue
Ngounoue, a native of Silver Springs, Maryland, who was back home in Washington, D.C., Monday night and about to light the candles on her Oreo Cream cake when she admitted that she even surprised herself during her weeklong run to her first gold ball.
Clervie, nicknamed Clair, announced her arrival as a threat on the junior circuit in April, when she swept the prestigious Easter Bowl singles and doubles titles without dropping a set.
"I think I surprised them and I think I surprised myself actually,'' said Ngounoue, whose full-time coach is her father, Aime Ngounoue, a teaching pro at the Sports Fit Bowie club in Bowie, Maryland.
"[I wasn't seeded because] I haven't played in any National 14s in a while, so to win a Super National was nice to beat all those top 10 [girls]," the blue chip rising seventh grader said. "After the Easter Bowl, I knew I could probably do well in the 14s' too, so it did give me confidence knowing I was at a certain level and would need to push myself to get better results than even [Sunday].''