Commitment Announcement
Rollins Finds His Potential Match at Texas A&M
by Rhiannon Potkey, 30 July 2018
Pierce Rollins tried to play it safe by choosing tennis. Despite being ranked No. 1 in his age group in Oklahoma, Rollins decided to abandon motocross as an 8-year-old because the injury risk was too great.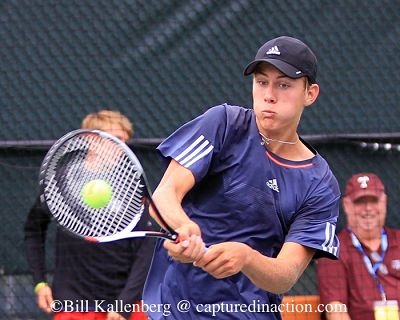 But switching sports didn't fully shield Rollins from injury. The rising senior endured a painful growth spurt during the 14s that sidelined him from tennis for nearly two years.
Rollins had Tommy John surgery to repair a ligament in his left elbow, and couldn't play for nine months. Once he finally got back on the court, he suffered a fracture in his foot that forced him to miss eight more weeks. Rollins began competing again once the fracture healed, only to suffer yet another fracture in his foot.
Eight more weeks of rest, and a lot of frustration followed.
"The poor guy really had a bad run of it there. But I give him a lot of credit, he had an amazing attitude with his persistence and positivity. It would have been easy to get down and say 'poor me.' But he never did that," said Trent Tucker, Rollins' coach at Tucker Tennis Academy in Tulsa. "It was great to see him have that resiliency. A lot of kids in today's world probably wouldn't have been nearly as patient or committed to grind it out during that boring phase."
Having fallen behind many of his peers from a competitive-playing standpoint, Rollins has pushed to make up for lost time in the last two years. He's made a steady climb back up the rankings and onto college coaching radars.
The blue chip recently committed to Texas A&M, choosing the Aggies over Oklahoma and LSU.
"I really liked the coaches at A&M. They really seemed interested in me and seemed like they cared a lot about my potential," Rollins said. "I want to see how much I can grow being around such a great program. I feel like I will really thrive in that kind of environment and I am pretty excited to be a part of that."