Special from
Zoo Tennis
KALAMAZOO, Mich. - Fourteen-year-old Martin Damm's goal in accepting a wild card into Kalamazoo was nothing more ambitious than getting some match play after his disappointing results on the ITF junior circuit this summer.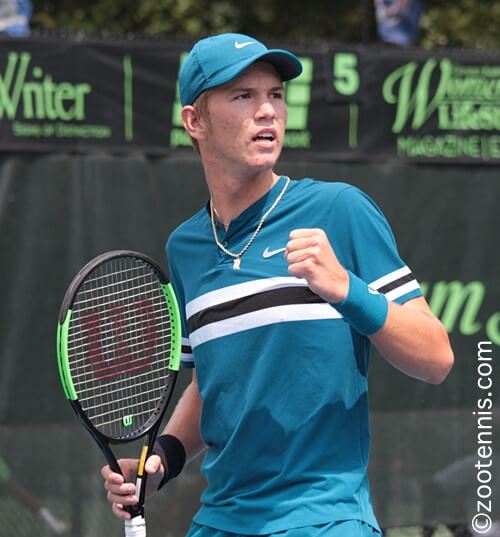 The 6-foot, 6 ½-inch lefthander not only exceeded his own expectations, posting seven victories to claim the USTA 16s National Championship, he also earned a place in the tournament's history book as its youngest champion since the age division changed from 15 to 16 in 1963.
Seeded No. 15, Damm had several tough matches along the way, beating No. 2 seed Max McKennon in three sets in the fifth round and No. 7 seed Ryan Fishback from a set down in the quarterfinals.
In contrast, his opponent in the final, No. 4 seed Zane Khan, had breezed into the championship match without dropping more than four games in a set. Zhan looked unstoppable after beating top seed Keshav Chopra 6-0, 6-2 in the semifinals, yet acknowledged before their first meeting that Damm's formidable power would present a challenge.
Although he was making his debut on Stowe Stadium's George Acker Court, Damm showed no sign of nerves as the crowd began to file in on a warm and sunny day in Southwest Michigan.
Using his big lefty serve, which clocked 120 mph on the radar gun several times, Damm took a quick 3-0 lead, while Khan appeared less relaxed and was not consistent enough to pressure Damm.
"I wasn't too nervous," Damm said. "Zane is a very intimidating player. ... He hits the ball as hard as he can, he stands on the baseline on my first serve, which I'm not used to. I had to stay with him, because if he got away, I'd have a really hard time getting back in it."