Recruiting Profile
Hohmann Finds a Coaching Connection at LSU
by Rhiannon Potkey, 13 November 2018
There is one reason blue chip senior Ronald Hohmann is signing to play for LSU. His name is Andy Brandi.
Hohmann wants to play on the pro tour, and believes the distinguished coach can help him develop into an elite player.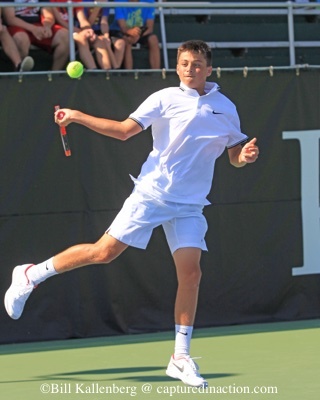 Hohmann and Brandi first met six years ago when Brandi was still working for the USTA at the National Campus in Lake Nona, Florida. Once Brandi and his son, Chris, became co-coaches at LSU, Hohmann knew the Tigers would be the top option if he decided to play college tennis.
A young senior who turned 17 in August, Hohmann is still deciding if he will enroll at LSU next fall or in the spring of 2020.
"They are amazing coaches and Andy has always been the most confident about me and my goals," Hohmann said. "I want to be a professional and I feel like the experience in that program will be a very good opportunity to make that possible."
Six months ago, Hohman was debating if he wanted to play in college. He thought about taking a gap year or starting his professional career right away.
"I set a goal for myself that if I was not playing the way I wanted to play or was not at a high enough level to skip college then I am going to go," Hohmann said. "I was obviously not ready to to pro yet if I didn't have the results that I need, so college is a great steppingstone to get there."