Special from
Zoo Tennis
When you've won a junior slam and reached the top spot in the International Tennis Federation's World Junior rankings as a 14-year-old, what does your next year of competitive tennis look like?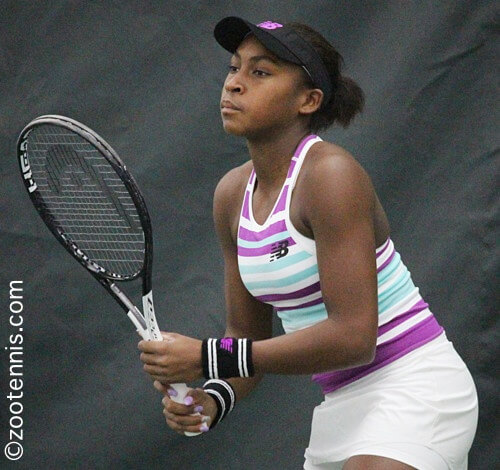 Cori "Coco" Gauff is Focusing on Professional Events
©
Zoo Tennis
A prodigy since age 10, Cori "Coco" Gauff has experience in following up breakthrough results in the past. As a 10-year-old, she reached the semifinals of the Junior Orange Bowl 12s. Prohibited from playing ITF Junior Circuit events until she turned 13, Gauff found competition elsewhere, reaching the fourth round of the USTA Girls 18s Clay Courts a few months after turning 12.
In just her third ITF Junior Circuit tournament, the then 13-year-old Gauff reached the final of the Grade 1 in College Park, and two weeks later, as a wild card, made the final of the 2017 U.S. Open Junior Championships, a result that raised her profile to new heights.
After signing with Roger Federer's management firm Team8 in late 2017, Gauff made her pro debut in 2018 at two $25,000 events in the United States, qualifying and reaching the second round in both. In between those two tournaments, Gauff won the French Open girls title and, after reaching the quarterfinals at the Wimbledon Junior Championships, moved into the top spot in the ITF World Junior rankings.
Gauff, currently No. 2 in the ITF Junior rankings, earned her second junior slam title at the 2018 U.S. Open, partnering with Caty McNally, her opponent in the French Open girls final to win the doubles championship. After capturing the Orange Bowl title in December, Gauff, who turns 15 next month, expressed her intention to leave junior tennis, with an exception for one tournament.
"I'm not really going to play any junior tournaments," Gauff said after her first round win at the $100,000 ITF World Tennis Tour's Dow Tennis Classic last week in Midland, Michigan. "Probably the only one would be San Diego, which is our national tournament for the U.S. Open [women's main draw] wild card. I'm 99 percent sure I won't be playing any more junior slams."