Special Feature
Oracle's Hurd Places a High Value On College Tennis
by Rhiannon Potkey, 12 March 2019
Mark Hurd could have been content with just giving back to Baylor University. Hurd played tennis for the Bears on scholarship, graduating in 1979 with a degree in business administration.
His name graces the Hurd Tennis Center on campus, and the building that houses all the day-to-day operations of both tennis programs.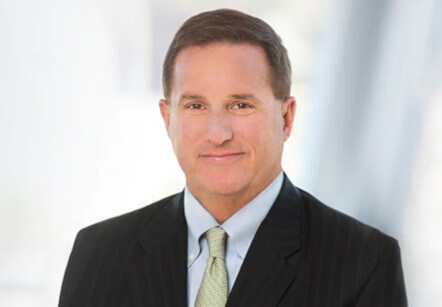 Oracle CEO Mark Hurd
But Hurd's passion for college tennis and appreciation for the impact it's had on his life compelled him to do more. Much more.
Hurd, the Chief Executive Officer of Oracle Corporation and a member of the company's Board of Directors, has helped lead Oracle's investment into college tennis.
The American multinational computer technology corporation has a three-year partnership with the ITA that includes the Oracle ITA Masters, the Oracle ITA National Fall Championships, the Oracle ITA Rankings, the Oracle Summer Circuit Powered by UTR and the ITA National Team Indoor Championships Presented by Oracle for Division I and III.
Oracle hosts the BNP Paribas Open Collegiate Tennis Challenge Presented by Oracle, and created the Oracle U.S. Tennis Awards that provide $100,000 grants to one male and one female rising American professional player who played college tennis.
"You can't say enough good things about what tennis does for you as an individual," Hurd said. "I would love to find a way to have more schools playing tennis and generate more interest in college tennis. I want to help build a bridge to put young people in the position to succeed professionally if they choose."
Hurd likely would have found success in the business world without playing tennis because of his ambition and drive. But he has no doubt being a student-athlete made him more prepared for his career.
"Pursuing a college education at the same time as playing college tennis created structure in terms of the way I invested my time. That proved to be a very positive thing for me," Hurd said. "I felt when I went to work after college that I was on vacation because I had been getting up in the morning and going to class and then to practicing and lifting and running and getting done to have dinner and having to study. Literally I had no free time."
Hurd grew up in New York City and discovered tennis after watching his uncle play. He moved to Florida in the eighth grade and became more serious about the sport.
"I just sort of got better every year and by the time it was my last year of high school, I was winning junior tournaments and got offers to go to college," Hurd said. "The whole infrastructure was different in those days because we had fewer players. But if you were good in the U.S., you were one of the best players in the world."
Blaine Willenborg was teammates with Hurd at Archbishop Curley-Notre Dame High School in Miami.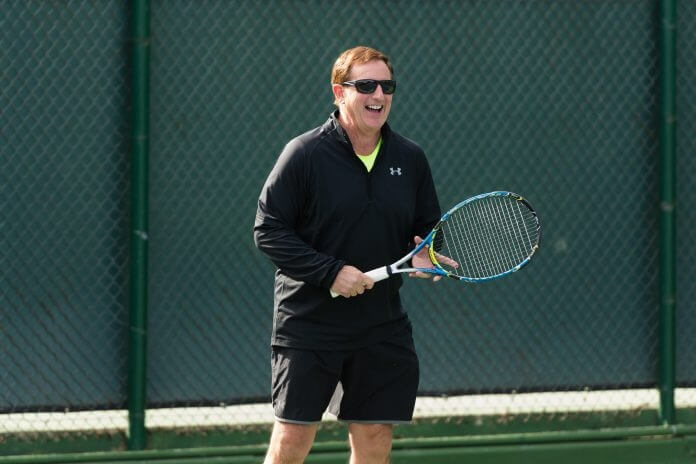 Hurd Played at Baylor University From 1975-79
© Courtesy Photo
"Mark was a very hard worker. He dedicated all of his time, effort and energy into becoming a better tennis player and improved immensely," said Willenborg, a former ATP Tour player and All-American at UCLA. "In high school, we all played two hours in the afternoon and maybe three. Mark would play for four or five hours every night under the lights. He would play with anybody anywhere around South Miami that wanted to go out and drill and practice."
Hurd's path to Baylor almost didn't happen. Hurd was familiar with the university because his dad was born in Waco, Texas, and he had visited the city before.
But Hurd signed a letter of intent with the conference of a different program. The agreement became void once he visited another school and unknowingly broke an NCAA rule at the time.
"I should have read the rule book. It was my fault for getting myself in that situation," Hurd said. "It sort of got to the point where my college shortlist got even shorter and Baylor was now at the top. I had a Baylor alum at my club and he saw an opening and began recruiting me hard. I went and never regretted it. I never thought what if or anything like that. I enjoyed every minute I was there."
Hurd played No. 2 singles during his first two seasons at Baylor and No. 1 in his final two seasons.
"I have lost to a lot of really great players," Hurd said with a laugh. "I have a long track record of great losses."
Carl Good was a one of Hurd's teammates at Baylor and they each pledged Phi Delta Theta together. Hurd eventually became the recruitment chair and president of the Texas Lambda chapter of the fraternity.
"That brought us much closer together as two tennis players going through the pledging process," Good said. "We had to make sure we still got school done and practice. We had a good competition going. Mark was a very competitive guy and a lot us were the same. It made our team really good and we all wanted it that way."
Good recalls Hurd fitting in well around campus, and having a good sense of humor. The team often practiced in the extreme heat of Texas, and nobody cut corners to try and get out of workouts.
"I remember Mark being one of the first players who I ever really played with or against who did the loud grunting like Nadal every time he hit the ball. I think it was pretty much his intensity, but also a little bit of the psych factor coming to his opponent," Good said. "We began giving him crap for it, like what are you doing hitting a drop shot and grunting? But it was funny to see how much of a psychological edge you can give yourself and maybe distract your opponent."
In the pre-cell phone, pre-internet era, nobody on Baylor's team could have predicted Hurd would eventually end up as the CEO of Hewlett-Packard and then Oracle. But they all knew he would be at the forefront of something.
"He was pretty tenacious about going after what he wanted," Good said. "He would always talk about going and working for a big company. He always wanted to think big and I know a lot of us really didn't want to go that route. He seemed to have a pretty good idea that he wanted to at that point in time. He is definitely someone who aspired to do big things."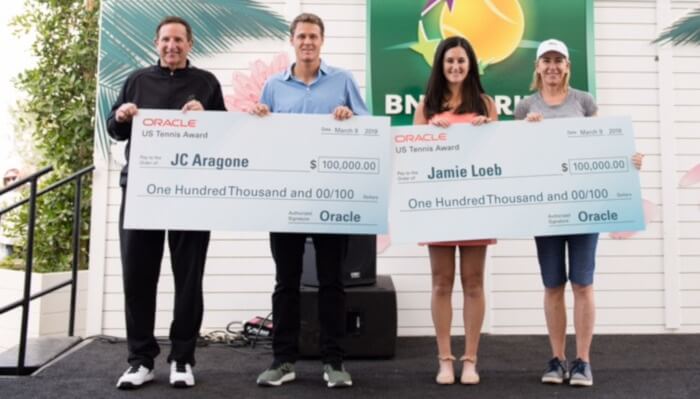 Hurd Presents This Year's Oracle U.S. Tennis Awards
© Oracle
Last Saturday at the BNP Paribas Open in Indiana Wells, California, Hurd was able to present the third annual Oracle U.S. Tennis Awards to North Carolina product Jamie Loeb and Virginia graduate JC Aragone.
The $100,000 grants have already been a resounding success in the short time they've been been in place, alleviating some of the financial stress of climbing the tour rankings on a tight budget.
The inaugural awards in 2017 were given to Virginia graduate Danielle Collins and UCLA product Mackenzie McDonald. Georgia Tech's Chris Eubanks and Ohio State's Francesca Di Lorenzo received last year's grants.
Collins reached the semifinals of the Australian Open this year, McDonald is currently ranked a career-high 62 and Eubanks is ranked a career-high 154. Di Lorenzo is returning to form after a foot injury.
"I don't think it's a coincidence the people we have offered scholarships to have dramatically improved their position in pro tennis subsequent to that," Hurd said. "A lot of it has to do with the talent and the skill, but they need the financial support to help put them in a position to take advantage of that. They can focus on the task at hand instead of focusing so much on winning their expenses back for the week at each event."
Hurd and Oracle are not done investing in college tennis. Hurd says they are working on creating new opportunities for future generations of players to benefit from the sport just like he did at Baylor.
"The thing you can say about Oracle is every year we've had an idea that was pretty innovative, from creating the college tennis scholarships to creating the Challenger tour," Hurd said. "I think we have something else in store that could be very exciting. But again, they are ideas that we haven't quite operationalized."
Leave a Comment
More Special Features
28-Aug-2020
Catching Up With Former Ohio State Star JJ Wolf
Former Ohio State star JJ Wolf turned pro after his junior year in college. The Cincinnati native has received a main draw wildcard for the upcoming U.S. Open in New York. Colette Lewis recently caught up with Wolf after his appearance in the Western & Southern Open.
17-Jul-2020
Touring Pros Add Sales Skills Through Har-Tru Initiative
Former collegiate All-Americans Jamie Loeb and Alex Rybakov are representing tennis court company, Har-Tru, while they compete on the Pro Circuit. Loeb and Rybakov are hoping to gain business experience they can use in the future as part of the Har-Tru players' sales team.
21-Jun-2020
Father's Day Commitment: Sons Choose To Play For Dad
Ben Shelton, Gavin Young, Frank Thompson and Ashe Ray gave their dads a long-lasting Father's Day gift by committing to play for them in college. As sons of coaches, the four grew up around their dad's programs and see the benefit of joining their teams.
About Rhiannon Potkey
Rhiannon Potkey is a veteran sportswriter with more than two decades of experience in journalism. Potkey has covered many sports at many levels and has a passion for finding great stories. Potkey has covered the U.S. Open, junior sectional and national events, college conference championships and Davis Cup matches. Potkey is currently Content Strategist for Tennis Recruiting. You can reach Rhiannon by email at
[email protected]
.