Notes
The table above lists all recruits as of May 25, 2019. In addition to the Star Rating, we display the highest TRN and ITF junior rankings for each player over the 6-month period prior to the voting, and for international players we display the TRN ranking they would hold if eligible. We also display current WTA and UTR numbers from the date the voting began.
Also Receiving Consideration
We reviewed the resumes for more than 50 teams for these rankings. Teams that received strong consideration and almost made our list are (alphabetically) as follows:  Air Force, Charleston Southern, Delaware, Florida Atlantic, Georgia Southern, Oral Roberts, St. John's (NY), UMass, William & Mary
Riding the Wave
Pepperdine University had a spectacular season in 2018-19. The Waves won their 8th straight WCC regular season title and 7th straight conference tournament, earning the No. 6 seed in the NCAA Championships. Pepperdine went on to reach the quarterfinals of the tournament and ending the year at No. 6 in the Oracle/ITA Rankings.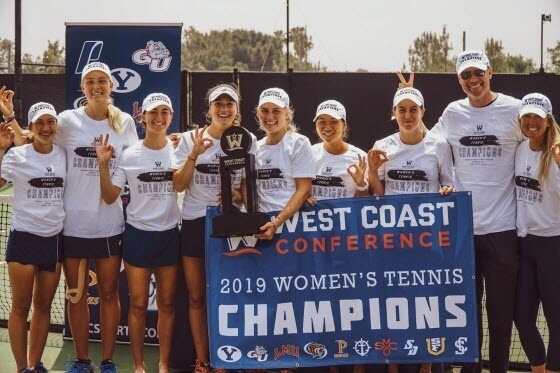 Head Coach Per Nilsson anticipates losing three top players from his roster, but he is looking to reload as he usually does. Pepperdine has two of the best recruits in the world heading to Malibu next year - both from Scandinavia - that make up the No. 1 mid-major recruiting class in college tennis. Both Astrid Wanja Brune Olsen of Norway and Lisa Zaar of Sweden have been competing in ITF events. Both young women have wins in $15K tournaments, with Brune Olsen and Zaar achieving singles rankings of 445 and 370, respectively, and doubles rankings of 105 and 197.
With a strong recruiting class to go with a strong culture, the future looks bright for Pepperdine.
Give Me Five
Old Dominion Head Coach Dominic Manilla has been at the helm of the women's tennis program for eight seasons - and those seasons have seen success. Four Monarch recruiting classes have been ranked among the Top 25 in the mid-majors, including three years out of the last four. This year, ODU earned its second-ever NCAA Tournament berth. Next year, its two-woman class of Alexandra Viktorovitch (Sweden) and Shahar Biran (Israel) make up the program's best-ranked class in history at No. 2 in the mid-majors and No. 21 overall.
Southern Methodist University Head Coach Kati Gyulai resigned her post at the end of the 2018-19 season, but she is certainly not leaving the cupboard bare. The Mustangs have a two-woman class arriving this Fall consisting of Isabella Tcherkes Zade (Italy) and Valeriya Rozenkova (Ukraine). That duo makes up the No. 3 mid-major class in the country.
The Florida International Panthers (No. 4) and San Diego Toreros (5) round out our Top 5.
State Breakdown
The 25 recruiting classes in our rankings come from programs in 18 different states as well as the District of Columbia, representing all regions of the country. California leads all states with four programs on the list and two in the Top 10. Top-ranked Pepperdine and No. 5 San Diego are joined in the rankings by the Cal Poly Mustangs (No. 14) and the University of the Pacific Tigers (16).
Three other states have two ranked classes apiece, starting with Texas. The Lone Star State has two classes in the Top 10: SMU (3) and North Texas (6). The commonwealths of Virginia and Massachusetts also have two ranked classes apiece.
Conference Call
Conference USA stands out on our list with six ranked recruiting classes. In addition to Top 10 classes Old Dominion (No. 2), Florida International (4), and North Texas (6), C-USA is represented in the rankings by the Marshall Thundering Herd (17), Charlotte 49ers (18), and Middle Tennessee Blue Raiders (24).
The West Coast Conference is also distinguished with four ranked classes and three among the Top 10; Pepperdine (1), San Diego (5), Gonzaga (8), and Pacific (16).
These two conferences - C-USA and WCC - are the only two conferences outside the Power 6 to send multiple teams to the NCAA Team Championships.
D-III Presence
For programs from NCAA Division III made this list - and they all hail from the northeast. The Babson Beavers (No. 20) and MIT Engineers (25) both represent the NEWMAC, and they are joined in the rankings by Carnegie Mellon (21) and Wesleyan (CT) (22).
Next Up ... NCAA Division III Rankings
With the mid-major rankings wrapped up, TennisRecruiting.net and Mizuno will next turn to ranking the top recruiting classes in NCAA Division III. On Monday we will see the Top D-III men's rankings - and we will wrap up our spring recruiting class rankings with the Top D-III women next Friday.
About Mizuno
Mizuno is proud to sponsor Recruiting Class Rankings at TennisRecruiting.net.
Reach Beyond
Mizuno is a brand that offers superior sporting goods designed to bring happiness and joy to all through the power of sports. We know that playing sports is a journey, and are committed to crafting the high-quality products athletes need throughout their journey – regardless of who they are, which sport they love or at what level they play. Mizuno is passionate about sports, and we'll always strive to help athletes find their inspiration – just as we have for over 100 years. #REACHBEYOND
Learn more about Mizuno and how they can help elevate your performance at www.mizunousa.com. Follow @MizunoTennisNorthAmerica for the latest in tennis news and product releases.
To see if you qualify for a preferred player package, please contact Tyler Carey. All NCAA recognized college tennis programs are eligible to receive discounts on Mizuno tennis shoes.
Leave a Comment
More Recruiting Class Rankings
25-May-2020
Top Men's Classes - 2020 Rankings
As we move into summer and towards reopening, the Class of 2020 has been moving forward. As of today, over 1,600 seniors have reported commitments to college tennis programs, and more are making verbal commitments each and every week. The decision-making will continue, but now is a good time to check in on where where things stand. Today, TRN and Mizuno are excited to bring you their poll of the Top 25 Men's College Tennis Recruiting Classes.
21-Jun-2019
2019 Top NCAA D-III Women's Classes
The Tennis Recruiting Network wraps up its spring recruiting class rankings with a look at the D-III women. Today we present our list of the Top 25 NCAA D-III women's recruiting classes for 2019. This year, a new program has Engineered its way to the top of the rankings for the first time ever.
3-Jun-2019
Top Women's Classes - 2019 Spring Rankings
Last week, we ranked the men's recruiting classes. Today, we take a look at the women. TRN and Mizuno are proud to present its spring rankings of the Top 25 Women's Recruiting Classes. Four new faces have popped into the Top Ten over the past few months, and there is a new face at the top - with the Gamecocks' first appearance at No. 1.