Notes
The table above lists all recruits as of May 25, 2019. In addition to the Star Rating, we display the highest TRN and ITF junior rankings for each player over the 6-month period prior to the voting, and for international players we display the TRN ranking they would hold if eligible. We also display current ATP and UTR numbers from the date the voting began.
Also Receiving Consideration
Our D-III panel reviewed the resumes of more than 50 D-III recruiting classes in coming up with these rankings. Other recruiting classes that received strong consideration and almost made our list are (alphabetically) as follows: Earlham, Occidental, RPI, Sewanee, Southwestern (TX)
Tartan Pride
The top of the rankings is strong. Each recruiting class in the Top 5 had support for the No. 1 position. But in the end, Carnegie Mellon University gets the nod for the top spot.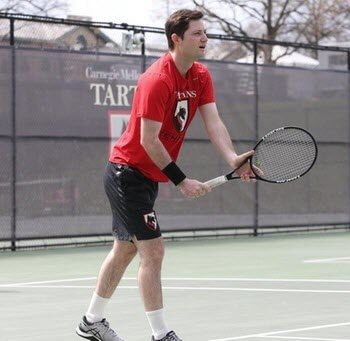 The Tartans ended the 2018-19 season ranked No. 14 nationally. They missed out on the NCAA Team Championship, but seniors Daniel Levine and Chaz Downing, both all-UAA selections, competed in both the singles and doubles competitions. Levine graduates as the all-time wins leader in school history, while Downing is 7th. Those are big shoes to fill - but having the No. 1 recruiting class should help.
CMU has four strong recruits coming in - three Americans and one international recruit. Certainly the most intriguing member of the class is Raahil Doshi of Singapore. Doshi has not played much recently due to mandatory military service, but he held a UTR of 13.2 a year ago with some fantastic wins. Doshi will be joined in Pittsburgh by three 4-Star recruits: Jonathan Nottingham (Philadelphia, Penn.), Matthew Poh (Manhattan Beach, Calif,), and Leo Wang (San Marino, Calif.). CMU has had Top 10 recruiting classes every year since 2011, but this is their first No. 1 class in school history.
Tartan Head Coach Michael Belmonte is understandably excited about his recruits.
"I quite literally scoured the country and the globe to assemble a group of recruits I believe is an ideal fit for Carnegie Mellon," said Belmonte. "Each one of these young men is bringing a set of skills that will contribute greatly to our cause next season, and I couldn't be more excited to usher them in and establish this next great generation of Tartans."
This formidable group - combined with four returning starters - should have the Tartans competing competing for titles in the near future.
Big Five
As mentioned above, there was not a lot of separation between the top schools, and five different recruiting classes were at the top of different lists submitted by coaches - including the University of Chicago at No. 2.
The Maroons have a five-man class with four Americans and one international recruit. The class is led by 4-Star recruits Sachin Das (McLean, Va.), Bailey Furgus (Austin, Texas), and Biren Reddy (Princeton, N.J.). They are joined by Junsung Kim of Korea and New Yorker Ethan King to make up the No. 2 class.
The MIT Engineers check in at No. 3 on our list, tying the highest-rated class in school history. Richter Jordaan (Denver, Colo.) and Daniel Papacica (Carmel, Calif.) will head east to join Benjamin Grossman of Puerto Rico and local product Derek Shen (Chestnut Hill, Mass.) in Cambridge.
The Middlebury Panthers and CMS Stags stand at No. 4 and 5 in our rankings, respectively.
Conference Call
The 25 recruiting classes in our rankings hail from 9 different conferences, and some conferences are very well represented.
As usual, the New England Small College Athletic Conference has a large presence in our rankings, with 7 of its 11 members in our Top 25. Three conference schools appear in the Top 10, including Middlebury (No. 4), the Bowdoin Polar Bears (7) and Williams Ephs (8). Other NESCAC programs on the list are Bates (16), Amherst (17), Colby (18), and Tufts (21).
The University Athletic Association is another usual suspect, and 5 of their 8 recruiting classes have earned spots in our rankings. In addition to CMU and Chicago - our Top Two classes - CWRU (13), Emory (15), and NYU (19) all represent the UAA.
Other conferences with multiple ranked classes are the SCIAC (3 ranked classes), NEWMAC (3), Liberty League (2), and Centennial (2).
State Breakdown
The 25 programs in our rankings hail from 13 US States. As we have seen in the past, the Commonwealth of Massachusetts leads all states with five ranked classes - two more than any other state. No. 3 MIT leads the way, and they are joined by fellow Massachusetts programs Williams (No. 8), Amherst (17), Tufts (21), and Babson (23).
Three states are tied for second behind Massachusetts with three ranked classes apiece, but I bet you can't name them. OK, sure, you might guess California, and you would be correct. CMS (5), Pomona-Pitzer (10), and Caltech (22) are all California schools in the rankings. But did you guess Maine with Bowdoin (7), Bates (16), and Colby (18)? Or New York with Skidmore (11), Hobart and William Smith (14), and NYU (19)?
Other states with multiple ranked classes are Pennsylvania and Ohio with two ranked classes apiece.
Coming Friday ... the Women
On Friday, TRN and Mizuno wrap up our look at the 2019 recruiting class rankings with the Division III women's lists. Come back Friday for those!
About Mizuno
Mizuno is proud to sponsor Recruiting Class Rankings at TennisRecruiting.net.
Reach Beyond
Mizuno is a brand that offers superior sporting goods designed to bring happiness and joy to all through the power of sports. We know that playing sports is a journey, and are committed to crafting the high-quality products athletes need throughout their journey – regardless of who they are, which sport they love or at what level they play. Mizuno is passionate about sports, and we'll always strive to help athletes find their inspiration – just as we have for over 100 years. #REACHBEYOND
Learn more about Mizuno and how they can help elevate your performance at www.mizunousa.com. Follow @MizunoTennisNorthAmerica for the latest in tennis news and product releases.
To see if you qualify for a preferred player package, please contact Tyler Carey. All NCAA recognized college tennis programs are eligible to receive discounts on Mizuno tennis shoes.
Leave a Comment
More Recruiting Class Rankings
1-Jun-2020
Top Women's Classes - 2020 Rankings
Our recruiting class rankings continue with a look at the top women. TRN and Mizuno have worked with a panel of junior tennis experts to produce the Top 25 Women's Recruiting Classes of 2020 - with a Hook at the very top of our list.
25-May-2020
Top Men's Classes - 2020 Rankings
As we move into summer and towards reopening, the Class of 2020 has been moving forward. As of today, over 1,600 seniors have reported commitments to college tennis programs, and more are making verbal commitments each and every week. The decision-making will continue, but now is a good time to check in on where where things stand. Today, TRN and Mizuno are excited to bring you their poll of the Top 25 Men's College Tennis Recruiting Classes.
21-Jun-2019
2019 Top NCAA D-III Women's Classes
The Tennis Recruiting Network wraps up its spring recruiting class rankings with a look at the D-III women. Today we present our list of the Top 25 NCAA D-III women's recruiting classes for 2019. This year, a new program has Engineered its way to the top of the rankings for the first time ever.