Special from
Zoo Tennis
WIMBLEDON - History was made Sunday at the All England Lawn Tennis Club, when Shintaro Mochizuki became the first Japanese boy to win a junior slam singles title, beating unseeded Carlos Gimeno Valero of Spain 6-3, 6-2 on Wimbledon's legendary Court 1.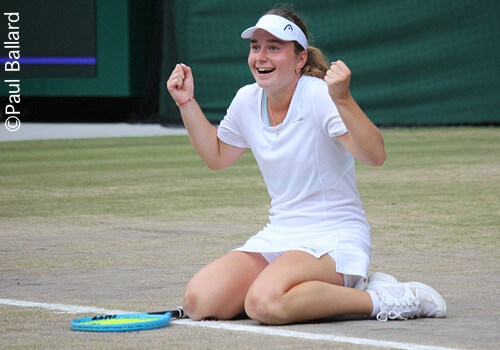 Girls Singles Champion Daria Snigur
© Paul Ballard
On Saturday, unseeded Daria Snigur completed her perfect grass court season, defeating No. 10 seed Alexa Noel of the United States 6-4, 6-4 to become just the second Ukrainian to earn a Wimbledon girls singles title.
Conditions throughout the week were perfect for tennis, with mild temperatures and no rain disrupting play. The weather may not have presented any obstacles for the top seeds, but their opponents certainly did, with only four boys and four girls seeds advancing to the quarterfinals. Top boys seed and French Open champion Holger Rune of Denmark was beaten in the third round by unseeded Anton Matusevich of Great Britain, while the boys No. 2 seed, Jonas Forejtek of the Czech Republic, went out in the first round, also to a British player, wild card James Story.
Top girls seed Emma Navarro's streak of comebacks from a set down ended in the semifinals, with Snigur taking out the French Open girls finalist and Duke recruit 6-3, 6-0. Noel, who hadn't lost a set all week, played outstanding tennis in her 6-2, 6-1 semifinal win over No. 4 seed Diane Parry, which set up a rematch of the Roehampton ITF Grade 1 final from the week before.