College Feature
Sheehy, Rogers Capture ITA National Summer Titles
by Rhiannon Potkey, 20 August 2019
Representing Abilene Christian University means a lot to Jonathan Sheehy. The senior realizes the tennis program doesn't get as much attention as the bigger schools.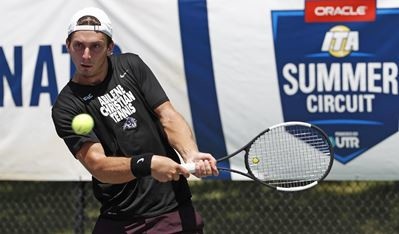 Singles and Doubles Champion Jonathan Sheehy of ACU
© ITA
Sheehy wanted to make the Wildcats proud while participating in the recent ITA National Summer Championships at Texas Christian University in Fort Worth.
"It changes your mentality. You are playing for something bigger than yourself. You are playing for your school," Sheehy said. "Some of our freshmen were out there watching me, and I have to set an example for them and just show them what they are capable of."
Playing only 15 miles from where he grew up in Arlington, Sheehy provided a major confidence boost for ACU by capturing the men's singles and doubles titles.
The 15th-seeded Sheehy defeated No. 9 Sangeet Sridhar of Stanford 7-5, 6-2 in the singles final, and teamed with Texas Tech senior and childhood friend Parker Wynn to win the doubles title with an 8-5 victory over Tennessee's Adam Walton and Andrew Rogers in the final.
"It's just kind of now settling in that I actually won it all. It is kind of a shock," Sheehy said. "I went into the tournament with no expectations. I just thought I would try to win a couple of matches. I never expected to win the whole thing."
Anna Rogers entered the tournament with a similar feeling internally. But as the No. 1 seed in women's singles, the North Carolina State senior knew the outside expectations were much different.
Rogers lived up to her top billing, defeating Denver's Taylor Melville 6-3, 7-6(7) in the singles final to capture the title. Rogers won five matches over four days while dropping only one set.