Special from
Zoo Tennis
Before the Civil Rights Act, before Billie Jean King beat Bobby Riggs in the Battle of the Sexes, before Title IX changed the sports landscape by providing women with collegiate opportunities, there was Roberta Alison Baumgardner.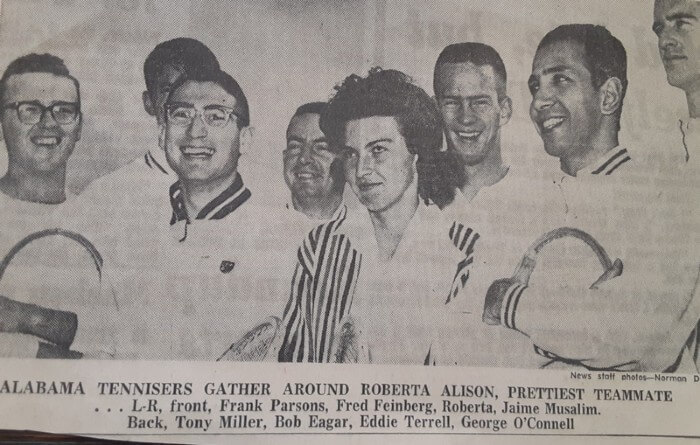 Robert Alison Baumgardner Played on Alabama's Men's Team
© Contributed Photo
An accomplished junior who advanced to the top echelon of amateur players in the United States, the teenager from Alexander City, Alabama did not view herself as a trailblazer when she joined the University of Alabama's men's tennis team in 1963, becoming the first woman in Southeastern Conference history to play a varsity sport. She was simply seeking an opportunity to compete.
"I'm in this thing by myself and for myself," Alison Baumgardner told Associated Press sportswriter Kelso Sturgeon in a 1965 article. "I wanted to play tennis in the SEC because I could get the best competition possible. That is the only reason."
Jason Morton, the Alabama men's coach, had been following Alison Baumgardner's impressive junior career, and with the support of athletic director and legendary football coach Bear Bryant, sought and received SEC approval for allowing women to compete on men's varsity teams.
"When she was 17 or 18, she was going to go to college but she couldn't keep playing tournaments, so at that time she knew the coach at Alabama and she wanted to play," said Ed Terrell, Alison Baumgardner's teammate and doubles partner on the men's team. "So he said, 'let's do something different, let's just let you join the men's tennis team. Jason talked Bryant into it I'm sure.'"
Alison Baumgardner was following in her father's footsteps in Tuscaloosa, with Cal Alison a top player for the Crimson Tide in the 1920s. Cal had married Roberta's mother, Elizabeth Russell, the daughter of the founder of Russell Athletic, headquartered in Alexander City, two hours east of Tuscaloosa. With her father's background in the sport, there was never any doubt she would be a competitive tennis player, according to her son, Earl Baumgardner Jr.
"He was really the motivating force behind her playing. He pushed her pretty hard and she spent a lot of time on the court that she might not have wanted to," Baumgardner Jr. said of his mother, who died in 2009 at age 65. "She had to hit 20 shots down the line and if she got to number 19 and she missed, she had to start all over again. This was probably as an 8-year-old."
That intense early training helped Alison Baumgardner win the prestigious Junior Orange Bowl 14-and-under title in 1956, as well as many USTA Southern junior and women's titles, while representing the United States in the Junior Wightman Cup, the predecessor to Junior Fed Cup. Billie Jean King remembers her first match against Alison when they were juniors.
"At my first tournament outside of California, my mother and I traveled to Middletown, Ohio in August 1958 for the Girls' 15 and under Nationals," King said via email. "I distinctly remember Kathy Chabot and I playing Roberta and Sandy Warshaw in the doubles semifinal. What I remember most is Roberta loved to compete and she played every match like it was the last match. She was really a nice, good person and she didn't care who she played, she just wanted to play."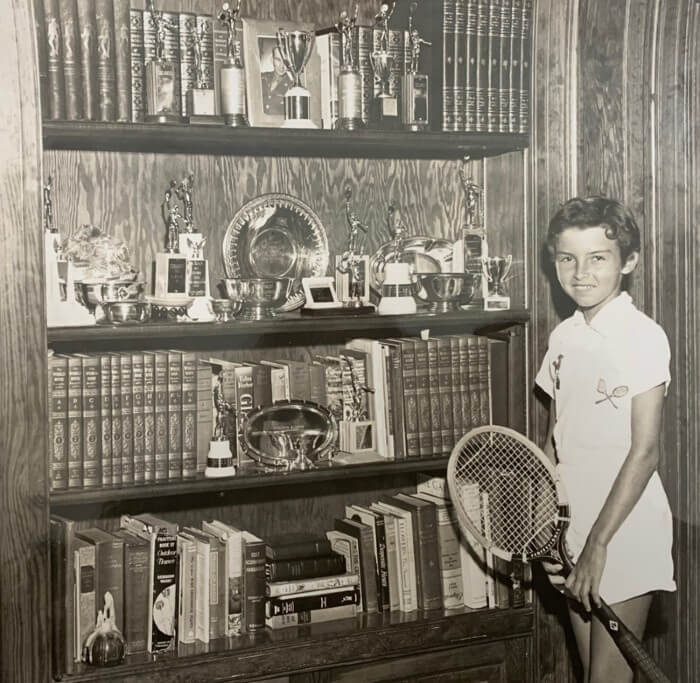 Alison Baumgardner Was An Accomplished Junior
© Contributed Photo
Yet with women's professional tennis still years away, competitive opportunities were scarce in the decades before the SEC began to offer women's sports. Alison Baumgardner did win the National Women's Collegiate Tennis singles title in 1962 and both singles and doubles in 1963, but that was prior to any formal recognition of the women's collegiate sport by the Association for Intercollegiate Athletics for Women (AIAW) or the NCAA.
"Roberta wanted to compete; she didn't want to be some kind of martyr or anything, she just wanted to play competitive tennis," Terrell said. "This was the only way, going to school, that she could do that. There were some coaches who defaulted and stuff, but there was no big deal about it."
While the novelty of seeing a woman compete against and beat men boosted attendance at dual matches—Alison went 13-5 playing No. 4 in her first year on the team—a predictable backlash emerged. Several SEC coaches defaulted to her rather than have their players risk losing to a woman, and by 1965 the SEC reversed itself, although it allowed the women already on teams to complete their eligibility.
"Mississippi State, when they played at Tuscaloosa, the coach [RT (Tom) Sawyer] defaulted her match," Terrell said. "The next year, in Starkville, he had his team come out dressed in skirts, as a protest. It was funny, because they had a real good team and we did too, and the [dual] match was close, so he decided to play her, because he needed that point."
Terrell recalled another SEC match that gave the local press a more conventional angle.
"One time, we played, I think it was Florida, in Tuscaloosa, and Roberta had lost her singles match," Terrell said. "We played against the same guy that beat her [in singles] in doubles (which was then played after singles) and beat them. The next morning the Tuscaloosa News had a picture of me as a knight in shining armor and she was the damsel in distress. The press loved this stuff."
Morton, who went on to serve as the chair umpire at the 1973 Battle of the Sexes between Billie Jean King and Bobby Riggs, found a way to keep the attention from creating resentment or controversy on the team.
"When we went on trips, she had her own motel room and everything else, but we all got along fine, she was one of the guys," said Terrell, who described Alison Baumgardner as aggressive on the court but introverted off it.
"She was a lot of fun. Nobody had any ill feelings about it, no problem at all. We didn't think anything about it; it didn't bother us at all. We used to tease each other and stuff like that, but she was a really good backcourt player…a good men's player could beat her, obviously. But she held her own very well."
Having proved she could compete with men, Alison Baumgardner, who later moved up to No. 2 in the Crimson Tide lineup, saw the injustice of the SEC decision to rescind that opportunity prior to her senior year.
"I think it certainly could hurt some teams," she told Sturgeon. "But if the conference doesn't want to select its athletics on ability, regardless of sex, that's its business. I can't understand what difference it makes just as long as one is good enough to make the team. Sex should have nothing to do with it."
After Morton left as head coach in 1964, Earl Baumgardner, a former top junior who won Kalamazoo 18s doubles in 1954, took over the head coaching position for two seasons, the first of which was Alison Baumgardner's senior year. Baumgardner coached another year at Alabama after Alison Baumgardner graduated, but when their romance blossomed into marriage, they left Alabama tennis behind, moving to Alexander City, with Baumgardner taking a job at Russell.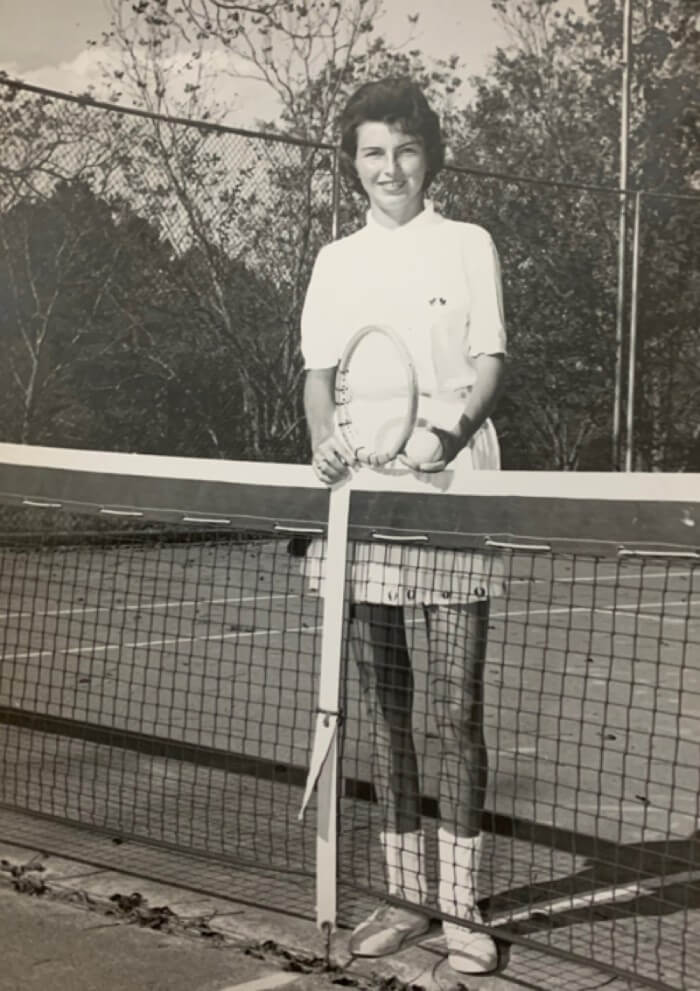 Alison Baumgardner Continued Playing After College
© Contributed Photo
As she was preparing to move on to the next phase in her life, Alison Baumgardner could not foresee the athletic opportunities that Title IX would provide less than 10 years in the future.
"Anyone who pictures me as a crusader is wrong," she told Sturgeon. "I'll leave that part of it to someone else. I certainly don't know of any girl I've inspired to compete in the SEC against men."
Alison Baumgardner continued to play tennis after graduating, but the historic nature of her time at Alabama receded as she began raising a family in her hometown, a role that became more challenging when she and Baumgardner divorced several years later.
"I remember being really young, when they were still married, and they would be gone for a weekend and come home and have a giant trophy from a tennis tournament, probably the Southerns, or some other gigantic tournament," Earl Baumgardner Jr. recalled. "You didn't realize it, and it wasn't brought up that much. When you are younger, that's your mom, and if she doesn't ever talk about it, you don't really know what it means."
Earl and his brother Russ played tennis, but their mother was determined not to push them as she had been.
"I was 13, 14 when I started and I'm sure she was happy that I played and my brother played some, all that, but she didn't, at 7 years old, stick a racquet in my hand and say this is what you're going to do," Baumgardner Jr. said.
John Gardner, a classmate of Earl Baumgardner Jr.'s at that time, wasn't aware that his friend's mother had made history in Alabama athletics.
"I remember going out and hitting with her, and I remember her just giving me little tips," Gardner said. "I remember how good she was at the time, how fluid she was, probably playing with an old Jack Kramer catgut racquet, and just how patient she was. I never knew how wealthy they were, because when I would come over there, she'd be there and always have a Pepsi and a racquet. She wasn't into flashy brands and fancy cars, she just was nice. She was more a legend in our town for what she did for the humane society and charities."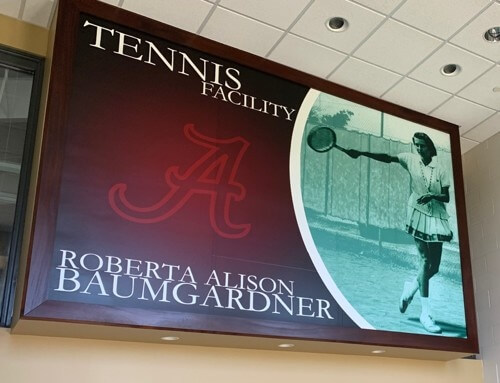 UA's Indoor Facility is Named in Alison Baumgardner's Honor
© Contributed Photo
Alison Baumgardner kept tabs on Alabama athletics in subsequent years, but rarely attended matches as she continued to focus on her friends, family and philanthropy in Alexander City.
In 1988, the Roberta Alison Fall Classic was established in her honor, and for the past 32 years top women's players from around the country have traveled to Tuscaloosa to compete in the flighted event, most of them blissfully unaware of the time when women's varsity sports did not exist.
"We've talked a lot about Roberta Alison," said Alabama women's head coach Jenny Mainz, who has led the program since 1997. "Especially every year as we build up and get close to the tournament. I don't think our student-athletes can wrap their heads around it. But we've talked a lot about her courage, her bravery, her legacy."
With the annual tournament and her induction into the Southern Tennis Hall of Fame in 1989, Alison Baumgardner continued to receive recognition, but it wasn't until 2012, when her sons funded Alabama's six-court indoor facility, that her name became a daily part of campus life.
Baumgardner Jr. said as the years went by, he began to appreciate the significance of his mother's legacy and the importance of keeping it alive.
"Looking back now and seeing what was done, being older and understanding it more, I'm certainly proud, seeing what an accomplishment it was," he said.
Leave a Comment
More Special Features
10-Apr-2020
ITA's Tennis For America Aims to Establish Year of Service
The ITA is introducing a new nationwide pilot program, Tennis for America. Based on a Year of Service model, it provides 12 months of paid, full-time community work for young Americans transitioning from college to professional careers.
18-Mar-2020
Basavareddy Deals With Abrupt End to ITF Caribbean Event
Nishesh Basavareddy and three other U.S. boys experienced an abrupt ending to a USTA-led trip to Costa Rica and the Dominican Republic for Junior ITF events because of the COVID-19 virus pandemic. They all made it home safely.
13-Mar-2020
Blue Chip Montgomery Hits Jackpot in Las Vegas
The odds were against an unranked teenager capturing a $25,000 tournament in just her fourth professional-level event. But 15-year-old blue chip Robin Montgomery rolled the dice and came up a winner last week at the Oracle Pro Series event in Las Vegas.
About Colette Lewis
Colette Lewis
has covered topflight U.S. and international junior events as a freelance journalist for over a decade. Her work has appeared in
Tennis
magazine, the
Tennis Championships
magazine and the US Open program. Lewis is active on
Twitter
, and she writes a weekly column right here at TennisRecruiting.net. She was named
Junior Tennis Champion
for 2016 by Tennis Industry Magazine.
Lewis, based out of Kalamazoo, Michigan, has seen every National Championship final played since 1977, and her work on the tournament's ustaboys.com website led her to establish ZooTennis, where she comments on junior and college tennis daily.