Player Spotlight
Spotlight Players of the Week: Gus Tettamble & Taylor Chandler
by Rhiannon Potkey, 9 September 2020
SPOTLIGHT ON Gus Tettamble (Saint Louis, Missouri)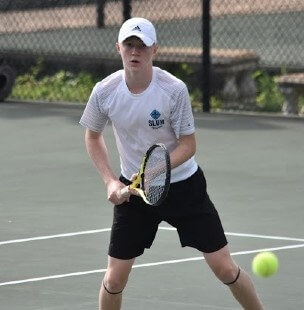 Music on your playlist: I listen to a lot of hip hip. Basically, I listen to anything I can tap my toes to.
Dream vacation destination: Oh man. We don't travel a lot, so maybe a weekend in Chicago. That would be pretty cool.
Favorite food: There are a lot of good local delis where I live, including one I love called Mom's Deli. I get the Mom's Special (Turkey, Ham, Roast Beef, Munchee Cheese, Shredded Lettuce, Tomatoes, Pickles, Onions and Homemade 1000 Island) but with no tomato. I also love the pizza place called St. Louis Pizza & Wings.
Favorite athletes: Kobe Bryant, Alex de Minaur and LeBron James.
Future occupation: I want to play tennis as long as I can. I think it would be cool to try and travel and go for it. I don't want to look back and say I wish I would have tried it. But I guess if that doesn't work out, I'd do something in business or sales.
If you could have dinner with anyone dead or alive, who would it be: My brothers have all been away at college, and I would love to just have a nice family dinner with all of them and my mom. But probably, Kobe. I think he is really cool. His passion and dedication are insane and I would like to talk to him about all that stuff.
Must-watch TV shows: Outer Banks and The Office
Favorite movies: Tommy Boy and Goodwill Hunting
If I am not playing tennis, I am … Hanging out with my buddies and maybe playing some pickup basketball.
Instagram handle: @gus.tettamble314