Notes
The table above lists all recruits as of January 5, 2021. In addition to the Star Rating, we display the highest TRN, UTR, ITF junior, and WTT rankings for each player since January 1, 2020, and for international players we display the TRN ranking they would hold if eligible.
Also Receiving Votes
Cornell (29)
,
Kansas State (26)
,
Miami (OH) (25)
,
William & Mary (24)
,
North Carolina (23)
,
UC Santa Barbara (22)
,
California (21)
,
Oklahoma (16)
,
Army (15)
,
Navy (9)
,
LSU (8)
,
Arizona (5)
,
Vanderbilt (5)
Cardinal Strong
The sun rises in the east, the weather gets warmer as we move into springtime, and Stanford is really, really good at tennis.
Some things just don't change. The Cardinal, two-time defending NCAA Champions, enter the spring 2021 season ranked No. 4 in the country, but it would be foolish to pick against them. Stanford Head Coach Lele Forood and her squads have hung 10 national championship banners over her 20-year tenure - and they might have won another one if the 2019-20 season had not been cut short due to COVID-19.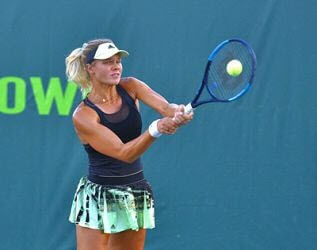 Looking at next year's newcomers, we certainly expect to see more of the same.
Stanford has a star-studded recruiting class arriving Fall 2021. Their three Blue Chip recruits - Connie Ma (Dubline, Ohio), Valencia Xu (Livingston, N.J.), and Alexandra Yepifanova (Lake Worth, Fla.) - earned all 18 first-place votes from our panel to become the first unanimous choice for No. 1 since Winter 2014.
All three of them compete at the highest levels of the game. Ma won both the singles and doubles championships at the 2019 USTA Winter Nationals - becoming only the third girl in tournament history to win both titles. Xu most recently reached the final of the Grade 5 ITF in Manchester, Conn. Yepifanova competed in both the 2019 Wimbledon and US Open Junior Championships - reaching the singles final of the US Open.
Coach Forood is excited about the influx of talent to her program.
"[These players] have talent, experience and the willingness to help us continue seeking our championship goals," said Forood in a school release. "We can't wait to get started working with them next fall."
Give Me Five
The Duke Blue Devils, with two Blue Chip commitments of their own, check in at No. 2 on our list. Ellie Coleman and Emma Jackson, the top-ranked recruits from Michigan and Illinois, respectively, are planning to head to Durham this fall. Duke earned 413 of 450 points in the voting to secure the second spot.
Holding down the No. 3 spot on the list is Texas A&M with 403 points. The Aggie recruiting class is anchored by a pair of Blue Chip athletes from Texas - Jeanette Mireles and Gianna Pielet - as well as Mary Stoiana and Ellie Pittman, the No. 1 recruits from the states of Connecticut and Indiana.
Rounding out the Top 5 are two Pac-12 programs - UCLA and Arizona State. The Bruins and Sun Devils garnered 396 and 379 points, respectively to claim the No. 4 and 5 positions in the rankings.
Conference Call
The 25 programs in our rankings are spread out nicely over 5 of the so-called "power conferences" - with 5 conferences each claiming 4 or more recruiting classes on the list.
The Pac-12 has distinguished itself at the top with three of the Top 5 classes and four ranked classes overall. Pac-12 programs Stanford (No. 1), UCLA (4) and Arizona State (5) are joined in the rankings by No. 20 USC.
The SEC and Big 10 each have five ranked recruiting classes. Third-ranked Texas A&M is joined in the rankings by fellow SEC programs Georgia (6), South Carolina (11), Florida (13), and Tennessee (25). Big 10 programs in the rankings are headlined by No. 10 Ohio State. Other Big 10 programs on the list are Penn State (12), Illinois (17), Northwestern (19), and Michigan (21).
Drop Shots
Scattershooting through the rankings …
New Faces: Two programs are making their first-ever appearance in our recruiting class rankings - Penn State (No. 12) and Tufts (22). The Nittany Lions hired new head coach Alexandra Anghelescu in July 2019, and Anghelescu wasted no time in attracting a strong class to University Park.
Jumbo Class: The Tufts Jumbos are a strong NCAA Division III program, and Head Coach Kate Bayard has brought in classes ranked among the Top 25 in Division III for 10 of the last 11 years. But 2021 marks the first year that Tufts has posted a class that ranks among the Top 25 overall at No. 22.
Welcome Back: The Tennessee Volunteers (25) are back in the recruiting class rankings for the first time since 2015.
Better than Ever: In addition to the two programs who are new to the rankings, the University of Pennsylvania has posted its best recruiting class ranking in school history. The Quakers check in at No. 15.
New Look: Only ten of the 25 schools in these rankings had ranked classes last year. There are 15 new faces this year - including 4 in the Top 10.
Streaking: The Harvard Crimson are making their 10th straight appearance in our recruiting class rankings - more than any other program. Other schools with more than three consecutive appearances are Duke (9 appearances) and Stanford (6).
Panelists for 2021
The 18 panelists for this voting period are shown below alphabetically. Please join us in thanking them for donating their time and talents to this effort.
Scott Colson - Payers and Players Podcast
Sonny Dearth - Virginia Media, Daily Press newspaper and dailypress.com Web site in Newport News, Va.
Joey Dillon - TRN contributor, freelance writer
Tim Donovan - Donovan Tennis Strategies, DTS College Prospects Showcases
Barry Friedman - National Tournament Director, Southern California Junior Competition Committee Chair, Tennis Director, Claremont Club, USPTA
Sally Grabham - National Tournament Director, Southwest Junior Competition Committee, USTA Southwest Section President
Larry Haugness - USTA/Missouri Valley Executive Committee, Former ITF and USTA National Tournament Director, PTR National Tester, USPTA, Junior Davis Cup Coach
Granger Huntress - Texas College Tennis blog
Pua Johnson - USTA National and ITA Collegiate Referee
Dave "The Koz" Kozlowski - Inside Tennis With The Koz, The Tennis Channel
Bobby Knight - CollegeTennisToday.com
Patty Lambropoulos - Junior Tennis Coordinator, College Park Athletic Club, National/Sectional/Local Tournament Director, Chicago District Board of Director, USTA National Jr Competition Committee, Midwest Junior Competition Committee
Colette Lewis - ZooTennis.com
Rick Limpert - TRN contributor, freelance writer
Parsa Nemati - Junior and college tennis expert, Parsa Bombs
Robert Sasseville - National Tournament Director, USTA Junior Competition Committee Member, USTA National Referee
Lisa Stone - ParentingAces.com
Julie Wrege - TRN principal, TennisInformation.com principal, former National Tournament Director, former USTA junior ranking chair and USTA Tennis Rules Committee member
Leave a Comment
More Recruiting Class Rankings
21-Jun-2021
2021 Top NCAA D-III Men's Classes
TRN continues its recruiting class ranking series this week with a look at Division III. Today we present the Top 25 NCAA D-III Men's Recruiting Class Rankings for the Class of 2021.
18-Jun-2021
2021 Top Mid-Major Women's Classes
The Tennis Recruiting Network continues its recruiting class ranking series this week with a look at the mid-majors. Today we present the Top 25 Women's Mid-Major Recruiting Class Rankings for the Class of 2021.
14-Jun-2021
2021 Top Mid-Major Men's Classes
The Tennis Recruiting Network continue its recruiting class ranking series this week with a look at the mid-majors. Today we present the Top 25 Men's Mid-Major Recruiting Class Rankings for the Class of 2021.