2021 Clay Court Nationals
Wang Learns Helpful Lessons in Girls 14s Title Run
by James Hill, 21 July 2021
Fourth-seeded Tianmei Wang learned a lot about herself en route to winning the singles title at the USTA Girls 14 National Clay Courts Championship over the weekend.
The San Marino, California native claimed the title with a 7-5, 6-3 victory over sixth-seeded Claire Hill (Cary, North Carolina) at the Frank Veltri Tennis Center in Plantation, Florida. In the semifinals, Wang won a 2-6, 6-2, 6-2 battle with fifth-seeded Claire An (New York).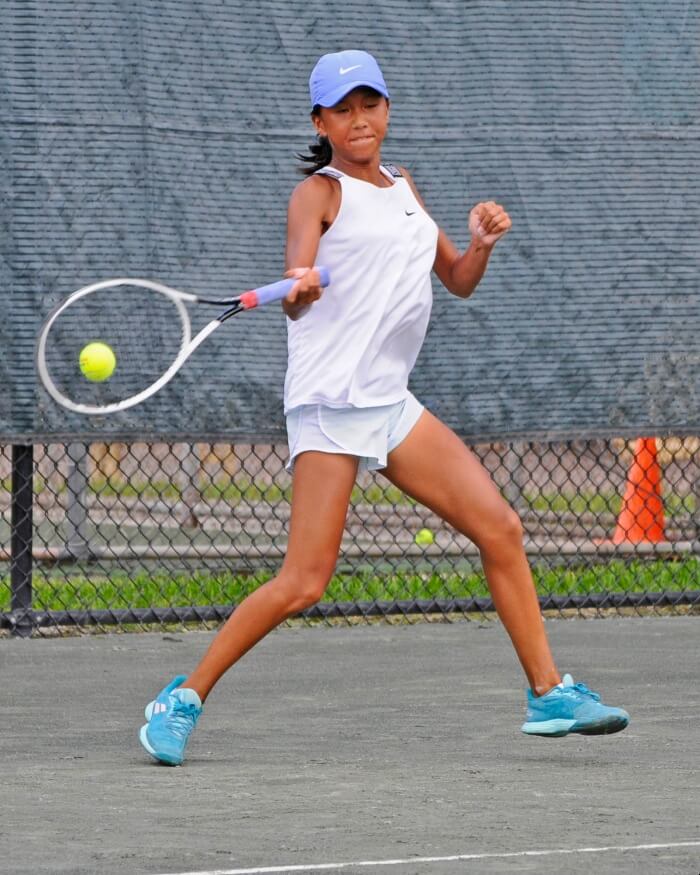 Girls 14s Singles Champion Tianmei Wang
© Alan Bogatay
"I learned to trust my shots a lot, and I am now more confident," said Wang, a blue chip rising freshman who trains with Cecil Mamiit in Burbank, California. "I know that if I want something, I just go for it. I tried to be consistent and played every ball calmly and wisely. I tried not to give away free points. I just went with my gut feeling and tried my best."
Wang, who won her first gold ball, traveled to the tournament early to adapt to the Florida climate, which she said differs from California, and also to get acclimated to the clay courts. Last March, she advanced to the semifinals of the Easter Bowl.
Top seeds An and Katie Rolls (Plymouth, Michigan) won the doubles championship with a 6-1, 7-5 decision over No. 17 seeds Alanis Hamilton (Bentonville, Arkansas) and Hadley Appling (Crestwood, Kentucky). Rolls teamed with Amber Yin (Ballwin, Missouri) to win the Easter Bowl doubles title.