National Championships
Lessons Learned: Evans Captures Girls 16s Title
by Rhiannon Potkey, 12 August 2021
To avoid repeating history, Tatum Evans knew she had to take control of her emotions.
Trailing 5-2 in the second set of the Girls 16s singles final in the USTA Billie Jean King National Championships, Evans could feel the momentum slipping away. She was overthinking her shots and second-guessing her decisions.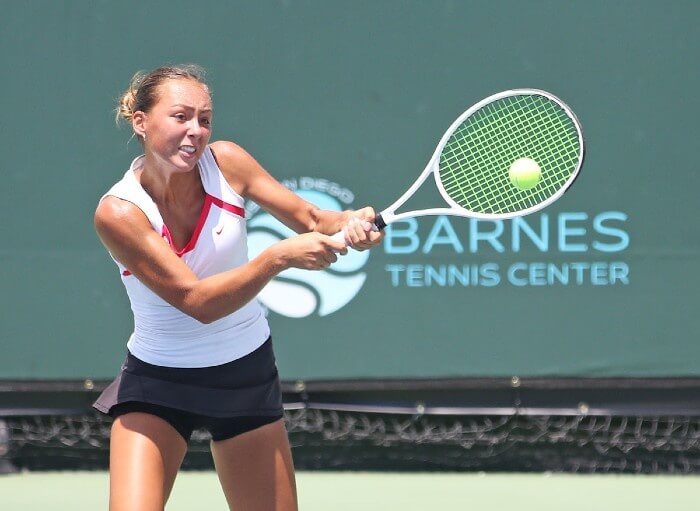 Girls 16s Singles Champion Tatum Evans
© J. Fred Sidhu
Evans sat down during the changeover and reflected on previous missed opportunities for major tournament wins when she lost in the finals of the Orange Bowl in 2020 and Easter Bowl in 2021.
"I thought about what I did wrong in those matches and knew I had to snap out of it and take what I learned from them to help me in this final," Evans said. "That really helped get me back into the match and snap out of it."
The second-seeded Evans proceeded to win five straight games and secure the prestigious title with a 6-1, 7-5 victory over No. 33 seed Luciana Perry on Wednesday afternoon at Barnes Tennis Center in San Diego.
Along with the gold ball, Evans locked up a wild card into the US Open Juniors main draw.
"Oh my gosh. I had so much motivation. I flew all the way to Paraguay to play in an ITF trying to get points to play a major, so being able to win this tournament and just get straight into the US Open is so huge for me," said Evans, a rising blue chip sophomore from McLean, Virginia. "I am so happy I don't have to travel around the freaking world trying to get those points. That is exciting."