College Feature
A Day In The Life: Pepperdine's Shiori Fukuda
by Rhiannon Potkey, 12 October 2021
Shiori Fukuda made an immediate impact once she arrived at Pepperdine last season. The graduate transfer helped the Waves reach the NCAA championship match for the first time in program history.
After earning her undergraduate degree at Ohio State in communications, Fukuda wanted to finish her college career in a new location. Pepperdine's strong program and Malibu's scenic beachside campus offered the Tokyo native the perfect venue.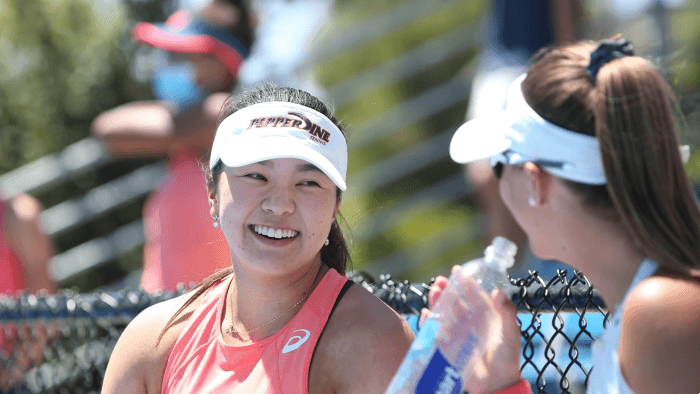 Pepperdine graduate student Shiori Fukuda
© Pepperdine Athletics
Fukuda is enrolled in Pepperdine's global business program and taking classes in economics, finance, leadership management and organization design.
Her Fall schedule is filled with school and tennis. Fukuda provided Tennis Recruiting Network with an inside look for our "Day In The Life" series:
Shiori's Typical Monday
"I wake up at about 7:30ish and go to the caf to get breakfast. I am on the meal plan at Pepperdine, so I get most of my meals and snacks from there. It has the typical breakfast stuff and I usually get scrambled eggs or sometimes a smoothie from Jamba Juice.
I have practice from 8:30-11 on the court and then fitness from 11-12. Right now, we are training for tournaments so we are doing a lot of match play with our teammates. If we need to focus on something specific, we can work with the coaches individually.
Once practice and fitness are over, I change clothes and get food for lunch and go to class from 1-5 and eat while I am in class. I always ask the professor if I am allowed to eat in class, especially with Covid-19. People might not like it, but they are really understanding and usually let me eat. I typically just get a salad from the salad bar at the caf. They have a lot of variety so it's a pretty hearty salad, and I can always get some Japanese food that I have in my room and have rice as well.