College Feature
Program History Made at ITA All-American Championships
by Rhiannon Potkey, 10 October 2021
History was made at the ITA All-American Championships on Sunday as SEC players swept the singles titles and Wake Forest broke through for a women's doubles title.
Florida sophomore Ben Shelton, South Carolina freshman Sarah Hamner and the Wake Forest tandem of Anna Brylin and Brooke Killingsworth became the first players and team in the history of their programs to be crowned champions at the event.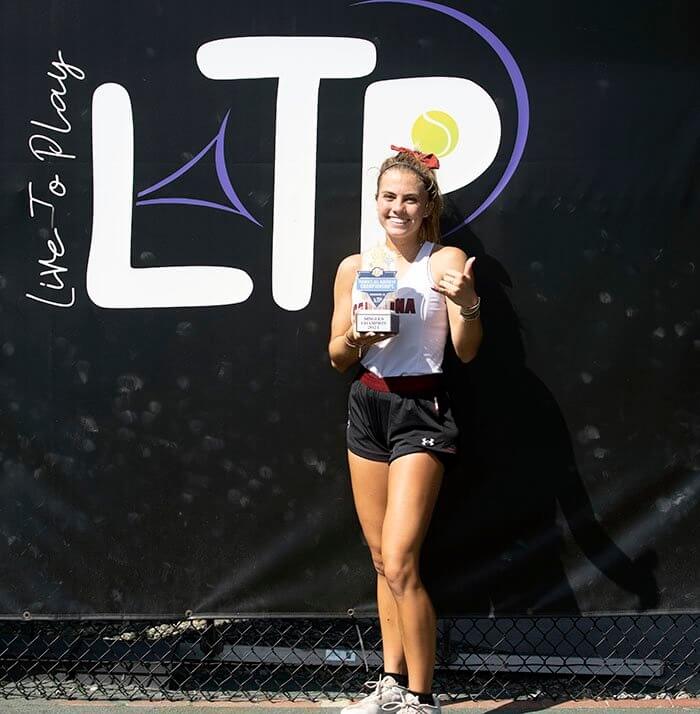 South Carolina's Sarah Hamner
© ITA
Shelton defeated University of San Diego redshirt senior August Holmgren 6-3, 6-4 in the final at the University of Tulsa in Oklahoma. Shelton didn't drop a set in six matches, losing only 35 games against his ranked opponents.
"Super proud of Ben for his play throughout this tournament," said Shelton's father and Florida head coach Bryan Shelton. "He played with passion, poise and confidence against some of the best in college tennis."
Hamner defeated No. 8 Alexa Noel of Iowa in the final after Noel retired from injury with Hamner leading 6-0, 3-6, 5-2 at LTP Tennis Club in Mt. Pleasant, South Carolina.
Hamner worked her way through qualifying to win the title. She dropped two sets in her eight matches to become the first freshman to win the All-American title since 2013. Before Hamner's run, no South Carolina player had reached the quarterfinals in singles.
"Sarah accomplished something extraordinary this week. To win three matches in the qualifying rounds and then march through five matches against the best players in the nation as a freshman is an extraordinarily difficult feat," said South Carolina head coach Kevin Epley. "She kept her head about her the whole week and matured as a player throughout the tournament. She is a true competitor with a laser-like focus on winning and no moment is too big for her."
Ohio State's Matej Vocel and Robert Cash captured the men's doubles title with a 6-3, 6-2 victory over teammates Justin Boulais and James Trotter. It was only the second time in event history that two teams from the same program met in the finals.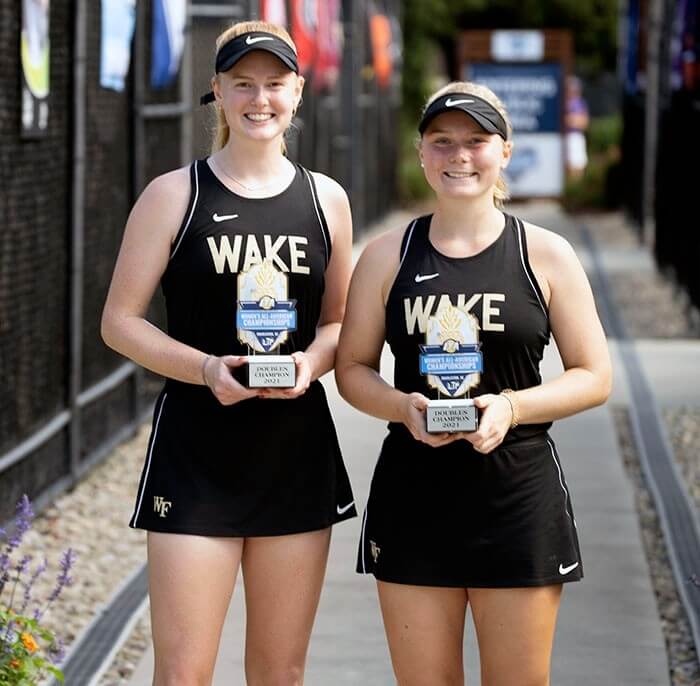 Wake Forest's Killingsworth and Brylin
© ITA
Brylin, a junior, and Killingsworth, a freshman, rallied to win the women's doubles title with a 2-6, 7-6 (6), 10-3 victory over Old Dominion's Tatsiana Sasnouskaya and Yuliia Starodubtseva in the final. Brylin and Killingsworth trailed 5-2 in the second set and fought off six match points during their resilient comeback.
"Today was one of the most thrilling days of my tennis career and it was a total team effort from start to finish," Killingsworth said. "Starting two weeks ago from getting out on the clay early and getting comfortable with (assistant) Andy (Roland), to each call made on court today, the support from the team out here in Charleston and back home made this possible. Anya and I never doubted that we could win, even down big. It's been a comeback weekend for the Deacs and we wanted nothing more than to bring the title home."
The four singles semifinalists and two doubles finalists for each gender received automatic entry into the ITA National Fall Championships, scheduled for November 4-7 in San Diego, California.
About RIA Eyewear
College Content at TennisRecruiting.net is sponsored by RIA Eyewear.
RIA Eyewear is a racquet sports focused performance eyewear company based in New York. Through rigorous athlete driven R&D, RIA Eyewear is developing the most technologically advanced eyewear products to change the way tennis players see the game and protect their most important performance asset, their vision. All of their eyewear is handcrafted in Italy and built specifically for the court.
Connect with RIA Eyewear on Facebook and Instagram - or on their website.
Leave a Comment
More College Coverage
12-Oct-2021
A Day In The Life: Pepperdine's Shiori Fukuda
Ever wonder what a typical day is like for a college tennis player? We've got you covered. Through their own words, we take you inside the schedule of a college player. Welcome to A Day In The Life of Pepperdine's Shiori Fukuda.
6-Oct-2021
Meet The Assistant: Santa Cruz's Jack Ventura Cruess
Assistant coaches might not get as much attention as head coaches, but they are highly valued by everyone within a college program. They work long hours to help teams try to win matches and help players try to achieve their goals. In this edition of Meet The Assistant, we profile Santa Cruz's Jack Ventura Cruess.
23-Aug-2021
Clearer Outlook: Cloud Quickly Goes From Tennessee to SMU
After the Tennessee coaching staff encouraged Louis Cloud to pursue other options, the incoming freshman quickly found a landing spot at SMU. Cloud only had a few days to drive to Dallas and get admitted to the school, but he made it work.
About Rhiannon Potkey
Rhiannon Potkey is a veteran sportswriter with more than two decades of experience in journalism. Potkey has covered many sports at many levels and has a passion for finding great stories. Potkey has covered the U.S. Open, junior sectional and national events, college conference championships and Davis Cup matches. Potkey is currently Content Strategist for Tennis Recruiting. You can reach Rhiannon by email at
[email protected]
.