Special from
Zoo Tennis
Americans Liv Hovde and Jack Anthrop rebounded from slow starts against their Canadian opponents in the finals of last week's ITF JB1 Pan American Closed Championships in Nicholasville, Kentucky, with Hovde defeating Marina Stakusic 3-6, 7-5, 6-3 and Anthrop downing Jaden Weekes 4-6, 6-1, 6-1.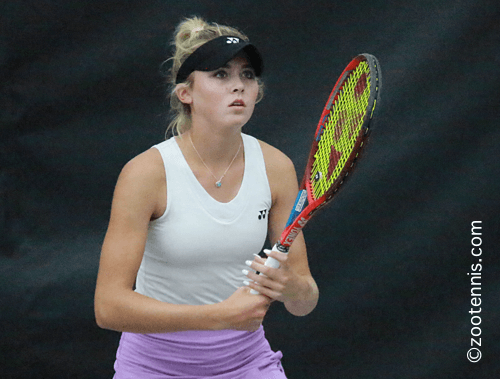 Girls Singles Champion Liv Hovde
© Zoo Tennis
Neither had dropped a set prior to the final, with the 12th-seeded Hovde particularly impressive in her 6-2, 6-4 semifinal victory over No. 2 seed Victoria Mboko of Canada.
In Saturday's girls championship match on the indoor courts of the Top Seed Tennis Club, Hovde faced her first deficit, with the fourth-seeded Stakusic's power and depth and her own unforced errors contributing to Hovde's slow start.
Hovde, who said nerves were a factor in her poor play at the beginning of the match, was down 0-3, 0-40 before clawing back to hold after saving five break points. She began to find her form then and created a break point opportunity with Stakusic serving for the set at 5-3, but Stakusic held to take the set.
"I started to feel more comfortable at the end of the first set," said the 15-year-old Texan, who is coached by former Australian ATP star Phil Dent. "I started out really strong in the second, but then she started coming back and it was a really tight second set."