Special from
Zoo Tennis
When Kevin Anderson announced his retirement from the ATP Tour last week, the career highlights of the 35-year-old from South Africa included US Open and Wimbledon finals, a Top 5 ATP ranking and the Arthur Ashe Humanitarian Award. With that resumé and seven tour titles, the University of Illinois product takes his place as one of the top former collegians to compete on the ATP tour this century.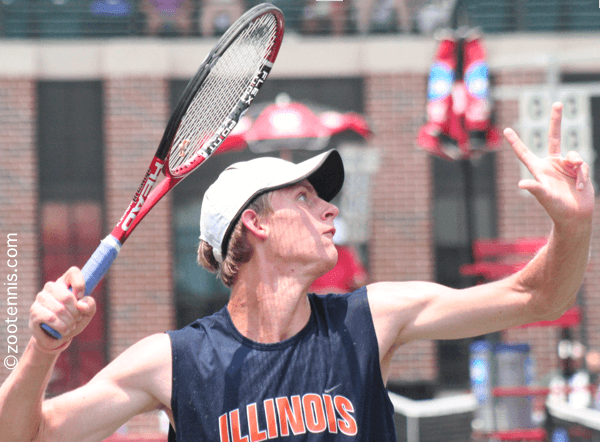 Kevin Anderson Was A Three-Time All-American at Illinois
© Zoo Tennis
After finishing his final year on the ITF Junior Circuit ranked 32, Anderson had considered immediately realizing his dream of playing professional tennis. But the opportunity to develop his game and to compete from a base in the United States led to him Champaign, where fellow South African Craig Tiley had built the Illini men's program into a national powerhouse.
While establishing the discipline, work ethic and commitment to improvement that he displayed throughout his professional career, Anderson led Illinois to the NCAA national championship final in 2007, before leaving Champaign for the professional circuit a few months later.
Current head coach Brad Dancer, who took over from Tiley after Anderson's first season at Illinois, lists four ways college tennis prepared the 6-foot-8 Florida resident for professional success.
"You're getting that match toughness, match opportunities, the pro events we hosted, so No. 1, competitive experience," Dancer said. "Two, I think Kevin made quite a good jump technically, with his volleys and his forehand. The third thing is his emotional maturation. Even though Kevin has always been incredibly mature, in college he had a great time. He was a social person, he met his wife here, he was very involved in our community. And the last one was the network and the group of people behind him; he's always felt that he's playing for something bigger than himself. I think that connectivity matters....I can't tell you how many times he's told me, like, 'I'm in Shanghai and people are screaming out ILL-INI'. It's a lonely, difficult, tough world out there."
In a Zoom press conference organized by Tennis South Africa last week, Anderson spoke at length about his 30 years as a tennis player, the highlights of his collegiate and professional careers and maintaining his connection to the game after his retirement. I have edited questions from me and other journalists on the call, with a focus on his collegiate experience.
Q: What were some of the highlights of your college career?:
A: The time I spent at the University of Illinois was an important part of my career. I went to college with the specific goal of using it as a platform to turn professional and I was fortunate enough to be part of a great school program with a very rich tennis culture.
Definitely some of the highlights were making the finals of the team event at the NCAAs, losing to Georgia, and myself and my partner Ryan Rowe winning NCAAs doubles in 2006 and almost winning again in 2007. But it's more just the numerous memories of every single match, playing this individual sport in this team environment. There was a match against Virginia, which was a regular-season match, but it was a packed house in Champaign. Things like that, I feel I could probably spend the next three hours going on. There's no shortage of memories, it was a great few years of my life."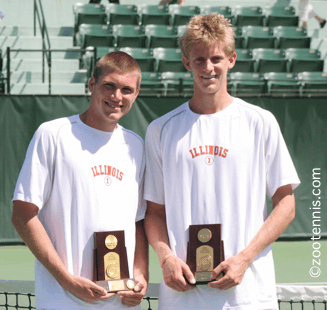 Ryan Rowe and Anderson Won The 2006 NCAA Doubles Title
© Zoo Tennis
Q: You and John Isner are both products of the same era of college tennis. What are your thoughts on how your careers have intertwined?
A: Looking back, I first played John a couple of times, most notably in the finals of the NCAA (team) event, and it's really crazy to think here we are, 15 years later, and I've decided to retire and John's still going, which is amazing to see. We've overlapped our entire careers, we've played a bunch of times, we've played a lot of really close matches, long matches; it's really been interesting and great to see how we've both navigated the paths from college through to the pro level.
Q: How did your years in Champaign impact your professional journey?
A: I think it was huge positives on many fronts. Firstly, just my tennis itself. It allowed me to continue to grow my game, work on the physicality. I was quite a lightweight coming in; I needed to get stronger, which was the perfect place to do that. I think, coming from South Africa, I always felt a little bit intimidated by the international scene. We're a little bit isolated and some people deal with it better than others, but I remember just sometimes being a little bit intimidated and not able to play my best tennis; I think my self-belief just was not quite there.
So just being in the States, being exposed to all these different players week in and week out, playing in professional events during the summer and even a couple in the fall, helped me get through that. A lot of the players I was losing to in juniors—even though I felt I was at least as good, if not better than—I was beating quite consistently pretty soon in my college career.
Secondly, it just established a great platform and base for when I did turn professional. I used Champaign as a base for the next several months. Obviously, coming from South Africa, I had that sense of like family and community in a different country. Even though I wasn't always in Champaign, just having the support of my team, all my teammates and friends wherever I went, often they would come watch me play. I think that was really meaningful and impactful throughout my career.
Q: Are you interested in college coaching?
A: Potentially, I think there are parts of it that are really exciting to me, parts of it, it's also difficult: the travel, the recruiting, there's obviously a lot of regulation to make sure ethics are looked after. I'm not ready for it just yet, but maybe down the line it might change.
Q: Are you considering coaching at the junior or professional level?
A: I've already been on court a few times with some of the younger kids in the area, who've I just known over the last few years, 14 to 16 years old, maybe even younger, 12 to 16, and I've actually really enjoyed that. I really feel like I can identify well with that age group and where they are in their journey. I think I'm probably a little ways away from coaching professionally. Potentially, if someone wanted to come here and work with me for a few days, I think that would be something, but I think the travel, just for now, would be a little bit difficult. But there's definitely a passion there. I've learned so much from so many people along the road and I definitely feel I've got a lot of valuable advice to share.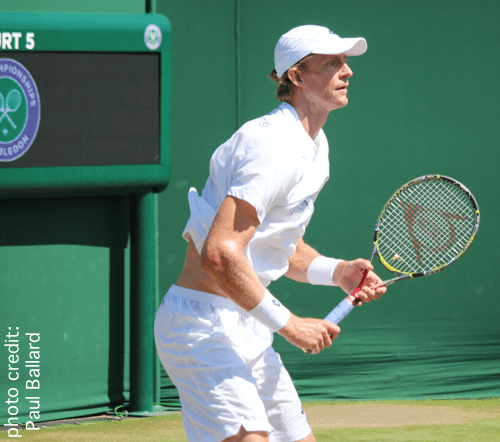 Anderson Reached the 2018 Wimbledon Finals
© Paul Ballard
Q: What advice do you have for top juniors about the decision to go to college or turn pro?
A: That conversation has come up hundreds of times with different people throughout the years. I think obviously that every player is in a slightly different set of circumstances. There's financial considerations, support, potentially, from federations, where they are physically, mentally, what development they still have left to do in their game. So just as a general guideline, I would say that unless a player has really broken through, and I'm thinking that in their last year of juniors, not necessarily are they a top junior, but they've already had some success on a professional career or its very imminent, you know it's going to come very soon. If they've got the backing and everything, then I could see a pathway straight into professional tennis is in the cards.
But for a lot of people, I really think college tennis is a really good option. Someone like myself, I was a top junior and I believed I was ready to turn pro, I was on the side of the scale that you could have made the argument that I could have gone pro, but even then, I think going to college was a great decision for me, especially coming from South Africa and being able to establish a base in the United States. My general encouragement would be to go to college and obviously you need to do your homework depending on what your goals are. If your goals are to turn professional, you'll want to make sure the program has that in mind. Maybe you want to go to a place that has a history of players coming through and turning pro and they know how to assist the player. But once you've done that homework, I think the college tennis route for many is a very viable option.
Q: What do you consider the highlights of your professional career?
A: Winning the (ATP) South African Open, as my first tournament in 2011, being at home, family watching, that was definitely a great memory, I'll definitely keep that with me. Making Top 10 for the first time, that was on the back of some really good matches, my [2015] US Open match against Andy Murray is one that definitely sticks out. I guess a couple more would be the US Open run, the Wimbledon run against Isner and Federer, those two long matches. And last year, a great one was my last title in Newport. It had been a tough couple of years for me, and getting the title and having my wife and daughter there was definitely a very good memory for me.
Q: What are your plans now?
A: I've certainly started figuring out what I might be interested in. I've done a lot of work with First Serve and I'm really involved with them, both raising money and helping the kids in the disadvantaged communities we have [in Florida].
I'm really interested in getting involved in the whole mental health epidemic, not just in the States, but around the world. There's such a stigma to it. It's very early days, but that's something I'll be spending a lot of my time on.
Lastly, I'm involved in being the ambassador for the BNP Paribas RCS Rising Star Challenge, so I hope they'll be able to continue to grow that. My schedule is more free, so I might be able to get even more involved. Having initiatives like that in South Africa is something that I'd really like to get involved in.
Leave a Comment
More Special Features
20-Feb-2022
Fight With Filer
TRN has covered David Filer a number of times over the years. Unfortunately, the Blue Chip freshman is in the news today for tougher reasons. Last week while at a USTA Level 2 in Scottsdale, Arizona, Filer fell ill and was diagnosed with Glioblastoma Multiforme.
28-Jan-2022
Eight Intriguing Questions For 2022
Colette Lewis returns with her annual look at eight intriguing questions that everyone in the tennis community will be waiting to have answered in 2022. Job replacements, tournament logistics and players moving up the rankings are just a few of the topics covered.
14-Jan-2022
Samir Banerjee Serves as Hitting Partner to ATP Stars
Samir Banerjee got the thrill of a lifetime in November when he served as a hitting partner for the ATP's biggest stars at its year-ending Finals competition in Turin, Italy. Banerjee hit with stars like Novak Djokovic, Stefanos Tsitsipas, Daniil Medvedev, Casper Ruud and Andrey Rublev.
About Colette Lewis
Colette Lewis
has covered topflight U.S. and international junior events as a freelance journalist for over a decade. Her work has appeared in
Tennis
magazine, the
Tennis Championships
magazine and the US Open program. Lewis is active on
Twitter
, and she writes a weekly column right here at TennisRecruiting.net. She was named
Junior Tennis Champion
for 2016 by Tennis Industry Magazine.
Lewis, based out of Kalamazoo, Michigan, has seen every National Championship final played since 1977, and her work on the tournament's ustaboys.com website led her to establish ZooTennis, where she comments on junior and college tennis daily.