Special from
Zoo Tennis
KALAMAZOO, Mich. - Jenson Brooksby has played two junior tournaments in 2018 and has won them both. After capturing the Easter Bowl title in April, Brooksby earned the most important title in USTA junior competition last Sunday at Kalamazoo College's Stowe Stadium, beating Brandon Nakashima 6-4, 6-3, 6-1 in the National 18s final, securing a U.S. Open men's singles main draw wild card in the process.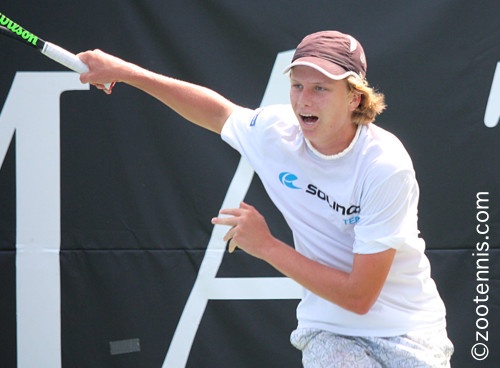 Boys 18s Singles Champion Jenson Brooksby
©
Zoo Tennis
The 17-year-old from Carmichael, California, who had chosen to focus on USTA Pro Circuit events this year, didn't drop a set in reaching the final. Seeded No. 4, Brooksby saw his path opened by the loss of top seed and defending champion Patrick Kypson, who was beaten by No. 9 seed Kevin Zhu 2-6, 6-3, 7-6(5) in the Round of 16. After losing only one game in his semifinal victory over No. 6 seed Drew Baird, Brooksby was ready for another encounter with No. 3 seed Nakashima, whom he had beaten in the Easter Bowl quarterfinals.
Nakashima, the 2017 16s champion, was aiming to become the first player since Paul Goldstein in 1992-93 to win back-to-back singles titles in Kalamazoo, but his 6-2, 4-6, 6-2 semifinal win over No. 26 seed Stefan Dostanic, a rematch of the 2017 16s final, was in doubt until late in the third set. Dostanic, who had beaten No. 2 seed DJ Thomas in the Round of 16, saved five break points serving at 2-3 in third, yet could not convert either of his game points, and Nakashima got the break he needed for another trip to the finals.
The first few games of the championship match, a best-of-five-set contest played under partly cloudy skies with temperatures in the low 80s, featured Brooksby extricating himself from several tight situations, a pattern than would continue throughout the two-hour and 10-minute match.
"He held serve and had two break points right away," Brooksby said of his first service game. "That could have been a tough situation to get out of. Repeatedly, he had a lot of break chances, but I was able to fight my way out of those with good serves."