Special from
Zoo Tennis
Blue chip Sonya Macavei grew up in Ohio, spent her high school years at a Florida academy and toured Europe all summer. But when the fall of 2022 rolls around, the 17-year-old left-hander will put her anchor down in Nashville, where she will join the Vanderbilt Commodores.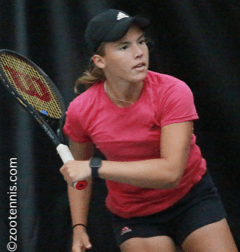 Blue Chip Sonya Macavei Has Committed to Vanderbilt
© Zoo Tennis
Macavei considered other Southeastern Conference schools, but her only official visit was to Vanderbilt last month.
"They took us around campus in the golf cart," said Macavei, who had never visited the Music City before. "We saw all the dorms, the buildings, the campus. We had a great team dinner as well. We met all the staff members and the coach invited us to meet all the team, so it was very nice. I was with Bridget Stammel, so it was great to share the same team environment with my incoming teammates as well. So that was exciting."
Vanderbilt's academic and athletic reputation convinced Macavei it was the best fit.
"I was deciding between a couple of schools and I just thought that it had the best balance for me academic-wise and tennis-wise," Macavei said.
Unlike many junior players who train at an academy and travel extensively, Macavei attends a bricks-and-mortar school at the Sanchez-Casal Academy in Naples, Florida, where she has lived and trained since her freshman year.