Coverage Announcement
Championship Week
by Rhiannon Potkey, 12 August 2019
Early August is an important time of the year for U.S. junior tennis.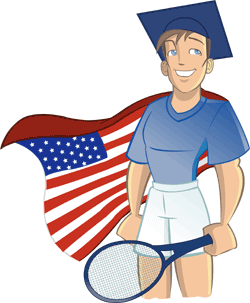 The best American juniors traveled from around the country to compete for gold balls at the USTA National Hard Court Championships. National titles were awarded for boys and girls in singles and doubles in all four age divisions.
This week, Tennis Recruiting Network feature comprehensive coverage of all these tournaments with a special article series called Championship Week. Each day we will feature stories that celebrate the best of the best in American junior tennis.
Here is our planned coverage schedule:
Championship Week Series
Things get started tomorrow morning with coverage of the 12s divisions.
Check in each day this week to find out what took place on courts from San Diego to Georgia as the top American juniors looked to secure their place in history.
Leave a Comment
More Website News
22-Jun-2020
TRN Rankings Resume
With USTA junior play resuming, the TRN ranking window will resume as well. For the next year, the ranking window will be 66 weeks instead of 52. Details here ...
4-May-2020
Impact of COVID-19 on TRN Rankings
COVID-19 has had broad impact across all walks of life - including junior tennis. Tennis governing bodies like the USTA and ITF have announced delays to junior tennis competition that may stretch out for a while. TRN rankings and ratings use USTA and ITF results, and today we are announcing changes to our rankings going forward.
31-Mar-2020
Want To Get Recruited? It's The Perfect Time to Use TRN
The first priority right now is health and safety. But with no chance to play tennis, it's a good time for players to update their profiles and upgrade to a subscription to enhance their chances of getting recruited. Coaches are on our site now more than ever.
About Rhiannon Potkey
Rhiannon Potkey is a veteran sportswriter with more than two decades of experience in journalism. Potkey has covered many sports at many levels and has a passion for finding great stories. Potkey has covered the U.S. Open, junior sectional and national events, college conference championships and Davis Cup matches. Potkey is currently Content Strategist for Tennis Recruiting. You can reach Rhiannon by email at
[email protected]
.