Recruiting Feature
Countdown to Signing Day
by Rhiannon Potkey, 12 March 2018
Having already secured many players in the fall, college programs are looking to put a cap on their 2018 classes during the Spring Signing Period.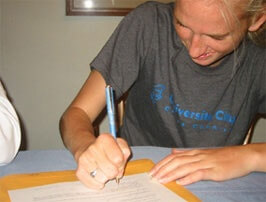 Spring Signing Day Arrives April 11
April 11 is an important day on the recruiting calendar. Informally known as Signing Day, it's first day this calendar year when seniors can sign their National Letter of Intent to play college tennis at Division I or Division II schools.
As always, The Tennis Recruiting Network and CrampsAWAY have big plans for the next month as we count down the days to April 11. Our special coverage is called the Countdown to Signing Day.
Our Countdown will keep you up-to-date with all the action. We'll have stories on players planning to sign to round out a school's 2018 class, and stories on players that signed in the fall to jumpstart the class. We'll have advice columns and articles showcasing how some colleges formulate their recruiting strategies.
Keep up with all the commitments of the senior boys and girls, and take a peek at some of the content we have planned for the next month:
CrampsAWAY Countdown to Signing Day Series
It all kicks off tomorrow with the first of our recruiting profiles, and continues through Signing Week. Stay tuned to the Tennis Recruiting Network over the coming weeks for complete coverage of the CrampsAWAY Countdown to Signing Day!
About CrampsAWAY
CrampsAWAY is proud to sponsor the Countdown to Signing Day series of articles at TennisRecruiting.net.
What is CrampsAWAY Pro?
CrampsAWAY Pro is an all-natural, food-grade liquid supplement that can prevent or instantly stop cramps. CrampsAWAY comes in convenient single-serve packets, perfect for any athlete on-the-go. CrampsAWAY Pro is completely safe and free of any banned substances. It's also NSF Certified for Sport, so athletes can use it whenever needed, with the assurance that they are not putting anything foreign, unhealthy or illegal into their bodies.
Are any elite athletes using CrampsAWAY?
Absolutely! CrampsAWAY Pro has become the go-to cramp solution for many of the best athletes in the world; including pro sports teams in the NCAA, NFL, NBA, MLB and MLS. Also, many top ATP players use CrampsAWAY Pro as a competitive advantage, including John Isner, Jack Sock, James Blake and Tim Smyczek.
Connect with CrampsAWAY on Facebook, Instagram, Twitter, and YouTube - or on their website.
Leave a Comment
More Website News
1-Sep-2019
Farewell 2019 Class
The Tennis Recruiting Network bids farewell to the high school class of 2019. Last week's rankings are our final edition of the 2018-19 year - and the final rankings for the outgoing Class of 2019.
12-Aug-2019
Championship Week
The USTA National Championships have now concluded, and gold balls have been awarded to the latest national champions. All week, TRN celebrates these winners - from the East Coast to the West Coast - with coverage of the Nationals. Enjoy the 2019 edition of Championship Week.
22-Jul-2019
Clay Court Championship Week
The USTA Clay Court Championships have concluded around the country. This week, TRN has wrap-up stories of all the action, from the Boys' 12s to the Girls' 18s. Check out the latest gold ball winners of all ages during our coverage of Clay Court Championship Week.
About Rhiannon Potkey
Rhiannon Potkey is a veteran sportswriter with more than two decades of experience in journalism. Potkey has covered many sports at many levels and has a passion for finding great stories. Potkey has covered the U.S. Open, junior sectional and national events, college conference championships and Davis Cup matches. Potkey is currently Content Strategist for Tennis Recruiting. You can reach Rhiannon by email at
[email protected]
.